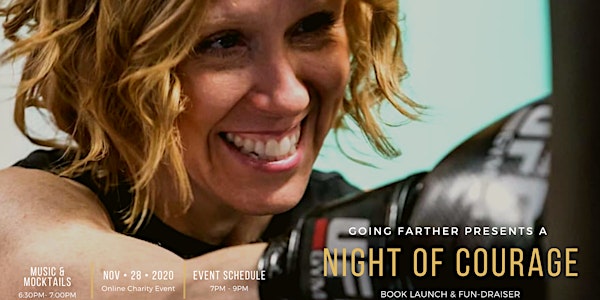 NIGHT OF COURAGE
Join us for this FREE online event "Night of Courage!" Experience stories of bravery, and take back what fear has stolen from you!
About this event
 EXPERIENCE A NIGHT OF COURAGE
You are invited to our FREE online gala Saturday, Nov 28th, 2020 for an evening to remember as we showcase and celebrate stories of lives changed through founder Vahen King's message of hope and courage! In a time when fear and uncertainty is on the rise, we want to give back and ensure everyone has the opportunity to be inspired and encouraged.
This "Night of Courage" will include community influencers such as, distinguished world renowned author Philip Yancey, Juno award nominee Chelsea Amber, Juno nominee Brooke Nicholls, and Tamara Boyes a 3 time Canadian Gospel Music Awards nominee, along with an array of other special guests and experiences you don't want to miss. We are looking forward to a fun and interactive evening with you. You can share comments, ask questions and participate in live bidding on some amazing prizes in our live and silent auction.
On this "Night of Courage," be brave, and take back what fear has stolen from you!
While you can choose to watch this event on your own, we strongly encourage you to enjoy the evening with a group and host a screening party. This means that you get to call up your closest friends and watch the gala together . We'll provide the code for the online event and you get to be a part of the celebration.
CHOOSE YOUR TICKET OPTION
1. Individual FREE viewing
2. Host a FREE screening party
3. CHOOSE TO DONATE $200 OR MORE;
You'll receive a free e-book from Going Farther, and we'll also deliver a charcuterie and spritzer package right to your door to add to the glam of the evening, ensuring an amazing experience for you and your guests.
4. PURCHASE A CHARCUTERIE BOARD & SPRITZER PACKAGE FOR YOUR SCREENING PARTY!
(10 people) -$100
(20 people) $175
(50 people or more) please CLICK HERE to contact the organizer
***Charcuterie board exclusive to Edmonton region
***Other regions will receive a "BYOB" - Build your own board and mocktails recipe and instructions.
5. BECOME A CHURCH OR COMMUNITY HOST
You are welcome to host a screening party for FREE, or join the courageous giving community by donating $300, and we'll include:
Host gift (Courage key)
Going Father's new church curriculum titled, "Face to Face & At His Feet- an in depth study on hearing God's voice. A 5 week (video-based) teaching for you and your congregation + bonus material.
OR
Going Farther's "Contagious Courage" workshop.  A one hour webinar, where Vahen shares her compelling stories of boldness and resiliency, which will challenge you to see, that the biggest limitations or disabilities are often the ones we place on ourselves. Vahen will provide learned strategies for her contagious courage that you can incorporate in your everyday.
If you would like to sponsor NIGHT OF COURAGE CLICK HERE to see sponsorship package.