Description
NIGHT ONE - FULLY LOADED 2017 @ WHITE HAUS:
Don Rankin | Hallow Point | Lady Killa | Military | Outlaw | Sound Elite | Supreme Genes | Turbulence | X-Loaded

Night ONE of The ReggaeMania.com Fully Loaded 2017 Canadian Sound Clash 3-Night Elimination Preliminaries features ten Sounds clashing and the winner getting a trophy plus $1,000 in cash. The top three Sounds per night advance to the ReggaeMania.com 2017 Fully Loaded Canadian Sound Clash Championships Night of the Championship Sounds Finals taking place Saturday, October 22, 2017 at White Haus.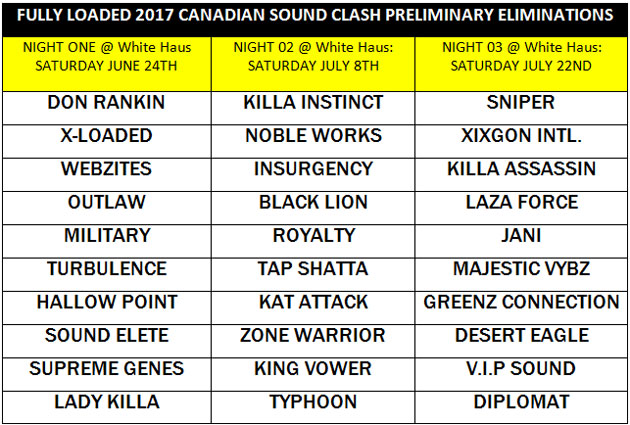 Date and Time
Location
WHITE HAUS Entertainment Complex
1325 Eglinton Ave. E.
Mississauga, ON L4W 4L9
Canada