Join NIGHTMARE ALLEY for their trippy screening of ALTERED STATES!
About this event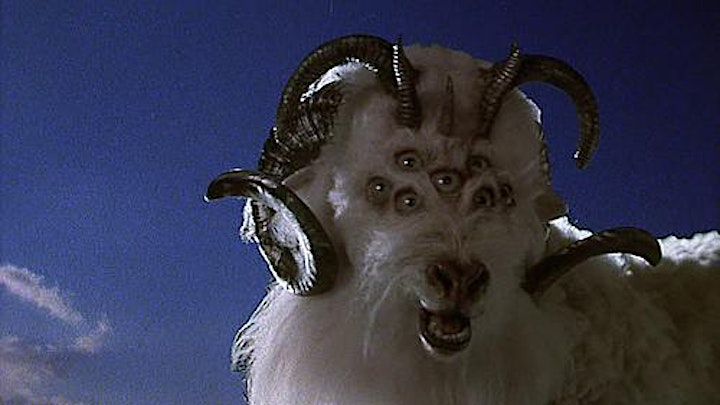 "ALTERED STATES is one hell of a movie -- literally." - ROGER EBERT
In the basement of a university medical school Dr. Jessup floats naked in total darkness. The most terrifying experiment in the history of science is out of control... and the subject is himself.
In an equally combustible experiment, Academy Award winning screenwriter Paddy Chayefsky and Ken Russell, the director of THE DEVILS and TOMMY, take us on a metaphysical journey to the moment of creation. Audacious for a studio film, Russell brings his trademark bizarre combination of visual fireworks and psychedelic head trips to the horrors of the scientific quest pushed too far. A grandiose rollercoaster ride that speeds headlong into farce and then dives into the power of love, ALTERED STATES invites you to 'turn on, tune in, and drop out'. - STEVEN LANDRY
ABOUT THE FILM
ALTERED STATES
USA | 1980 | 103 mins | R
Director: Ken Russell
Cast: William Hurt, Blair Brown, Bob Balaban
As part of the provincial government's vaccine certificate program, which was announced in September, everyone will be required to show that they received both doses of an approved COVID-19 vaccine at least 14 days earlier in order to enter the cinema for this event.
Everyone must bring either their paper vaccine receipt or PDF vaccine receipt available online, along with photo ID to prove that they have been fully immunized.
Regular admission applies. For INDIVIDUAL MEMBERSHIPS ($350) and FAMILY MEMBERSHIPS, please email us at info@revuecinema.ca to get a ticket!
Organizer of Nightmare Alley: ALTERED STATES (1980)
The recently renovated Revue Cinema is Toronto's premier not-for-profit community cinema. We offer great second-run Hollywood fare, insightful programming like our Silent Revue series — where classics from the silent era are accompanied on live piano — Food in Film, Designing the Movies, annual galas, retrospectives & numerous other community offerings. The Revue opened in 1912, making it the oldest operating cinema in Toronto. Support us by becoming a member & enjoy great perks throughout the entire year!