Join us for a night of NLP discussions with experts in the field!
About this event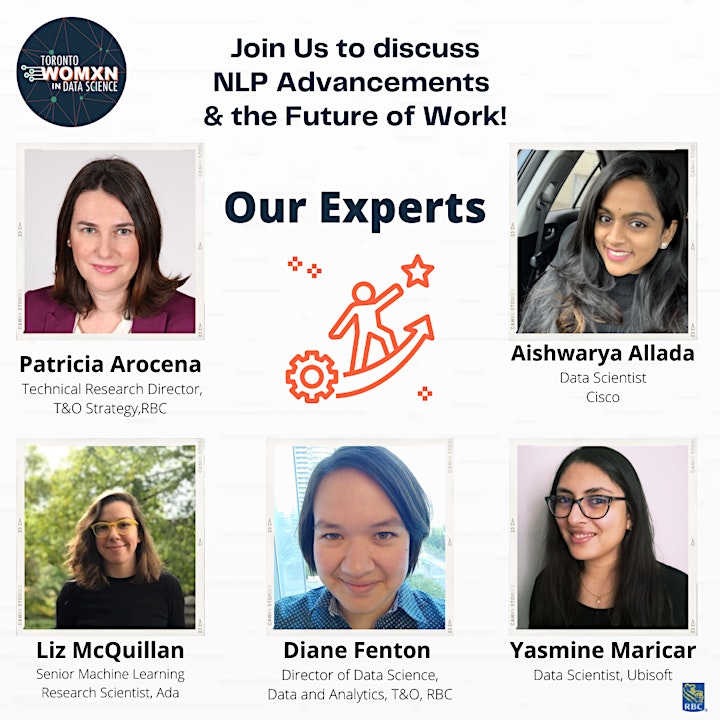 Join us on November 23rd as experts in the field of Natural Language Processing give us their take on where we're headed and what is needed now. They'll discuss advancements and challenges in the field as well as the future of work and upcoming opportunities.
See below for some bios of confirmed experts!
Speakers include:
Keynote address: Patricia Arocena, Technical Research Director, T&O Strategy,RBC
Patricia Arocena is a Director, Technical Research, Innovation and Technology at Royal Bank of Canada, responsible for understanding emerging technologies and helping drive adoption across the bank. Prior to joining RBC, Patricia held leadership innovation positions at Tier-1 research institutions in Canada, PWC, and other banks where she helped create Data and AI-powered solutions for the Financial Services industry. She earned her PhD in Computer Science and MEng in Computer Engineering from the University of Toronto, and has been published in numerous scientific journals. Patricia lives in Toronto and is an avid gardener when there is no snow on the ground
Panelists:
Diane Fenton
Diane Fenton is a Director of Data Science, on the Data and Analytics team within Technology and Operations at Royal Bank of Canada, responsible for development and delivery of machine learning models across the bank in addition to leading high-performing AI teams. After completing a master's degree in Pure Mathematics at the University of Calgary, Diane joined RBC in Toronto five years ago and proceeded to implement NLP-focused data science solutions across RBC. Recently, Diane returned to Calgary to join the newly opened RBC Technology Hub, and is looking forward to getting in some skiing this winter.
Liz McQuillan
Liz is a Senior Machine Learning Research Scientist at Ada, where she dedicates most of her time to developing novel NLP methodologies and creative implementations of existing methods for NLU. Previously, she was the Director of Applied Science (formerly an ML Research Scientist) at Graphika where she developed novel methods for large scale causal inference and NLU in an effort to discover underlying causal mechanisms in complex social systems, as well as a Research Analyst for NYCDOE's Office of Policy and Evaluation working on novel applications of machine learning for teacher and student evaluation, as well as a Data Fellow with Uptake.org. Liz has been published in several scientific journals for both her causal inference and NLP work. In a former life, Liz was a cognitive neuroscience researcher exploring the biological processes that affect attention and decision making in humans. When she isn't working at Ada, you can find Liz hiking with her dog or eating her way around NYC.
Aishwarya Allada
Aishwarya is a Master of Applied Science(Computer Science) graduate from the University of Waterloo with experience in the research field of Pattern Analysis and Machine Intelligence. Her research interests lies in Natural Language Understanding, Computer Vision and Artificial Intelligence. Apart from keeping up with the latest research and technology trends, she spends her free time sketching, singing and playing badminton.
Yasmine Maricar
Yasmine is an experienced Machine Learning Developer passionate about new technologies and the application of AI in the media industry. Currently working as a Data Scientist in the video game industry at Ubisoft, she's leveraging deep learning models for various initiatives in the NLP space and exploring creative ways to apply NLP/NLG for content creation in video games (dialogue generation etc.). Before coming to Montreal three years ago, Yasmine graduated with a Master's degree in Computer Science from ENSIIE and holds a Master's degree in Data Science from Université Paris-Saclay in France. Always happy to connect with other people and help them get into the Data Science field, Yasmine also enjoys reading and drawing in her free time.
Organizer of NLP Advancements & the Future of Work