NO BS ACTIONABLE METHODS TO FIND YOUR LIFE'S PURPOSE *WORKSHOP*

Tuesday, 5 December 2017 from 5:30 PM to 8:30 PM (EST)
Event Details
NO BS ACTIONABLE METHODS TO FIND YOUR LIFE'S PURPOSE (WORKSHOP)
Tuesday, December 05, 2017
5:30 to 8:30 PM
University of Toronto
500 University Ave, Suite 150, Toronto, ON
You wake up and feel there's something missing in your life. You're not sure what. But you can feel the void in your life.  

You get up to go to work. You work because of the pay, not because it brings you joy. Days drag on, you're low energy, and unhappy. Maybe you're anxious or depressed, or find yourself in tears. You constantly think "there has to be to my life more than this" or "what am I doing with my life?"
There's no magical cure that can remedy this, but there is a solution. The happiest and most successful people have discovered this solution: the answer is to find your life's purpose.
Identifying your inner compass will transform your life completely. It could lead you in a new direction, give you more energy, the days will seem to fly by because you're spending time on your goals and purpose. You will feel rejuvenated. Clearer. Happier. Whole. 
But finding your life purpose is a daunting and highly convoluted task. Most seminars and courses that focus on this topic charge up to $10,000, but they don't leave you with an action plan. Nothing will change and you won't see any differences. 
In Life Hacker Club, we focus on actionable and practical hacks that are simple, effective, and easy. Our format makes things highly digestible because the more complex and vague tips are difficult to implement. 
Our next meeting will be about finding your purpose. Get a new direction in your life. We will have two speakers who will break down their step-by-step methods they used that helped them discover their purpose and how you can use them to enrich your life.
Speakers Bio: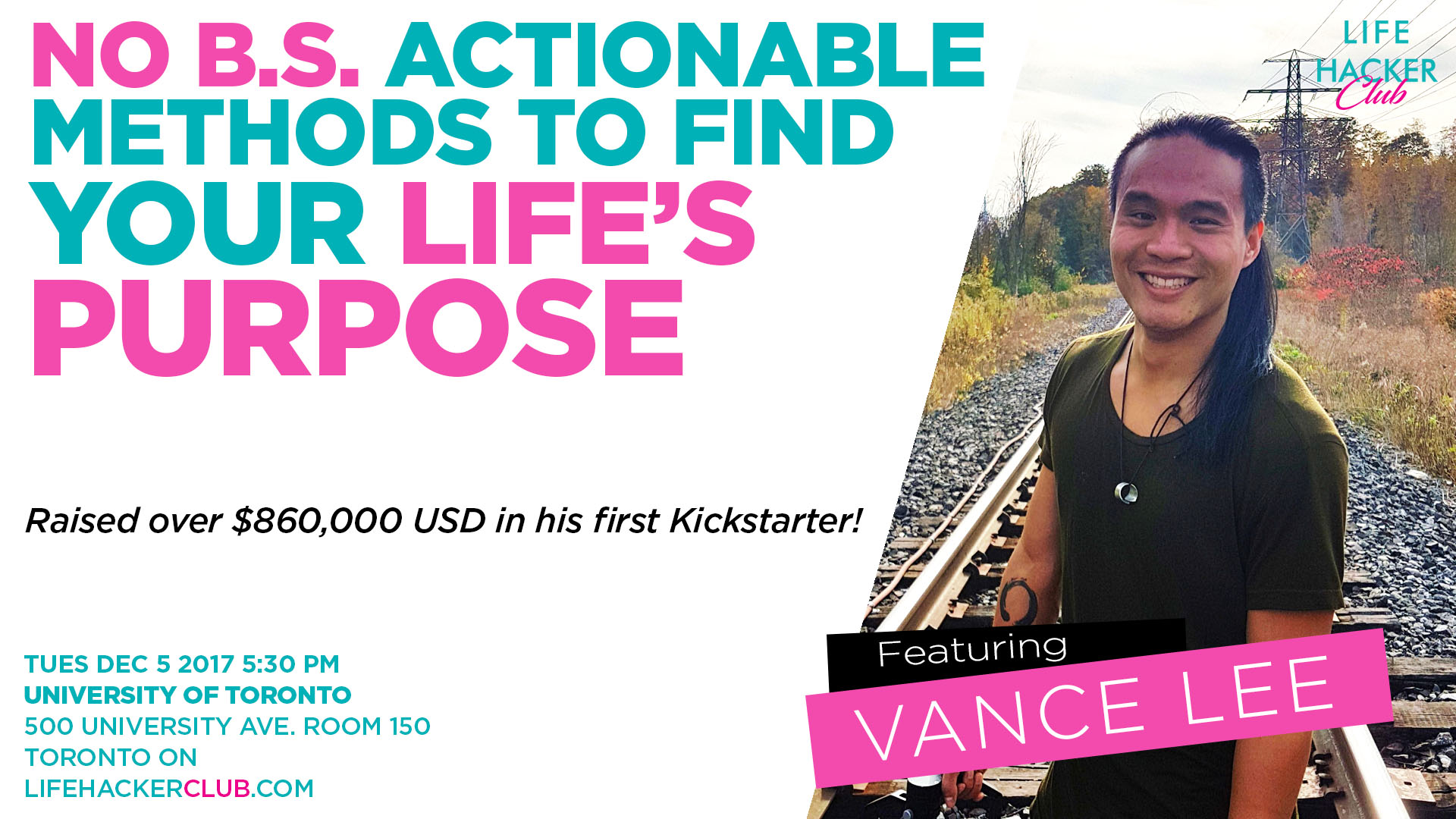 Vance Lee
Travelling digital nomad, serial entrepreneur, and meditation junkie. Professional, he's founded ventures (both successful and unsuccessful!) in: tech, marketing, e-commerce. Most recently he created a crowdfunding that raised over $800,000 USD.
He's passionate about inspiring people to challenge convention and embrace new perspectives in order to connect with something larger than ourselves.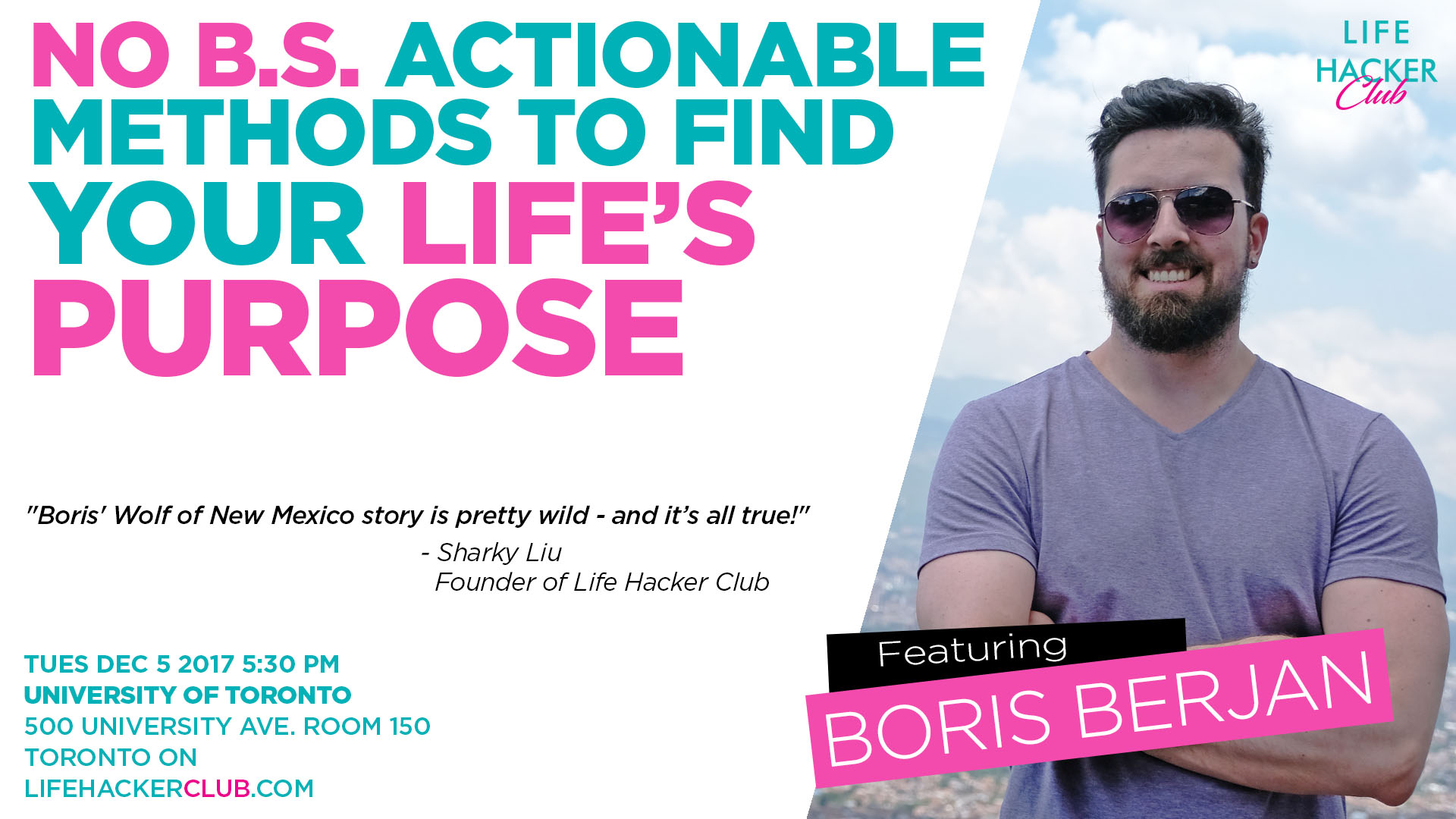 Boris Berjan
Two time refugee who used to look like a Serbian arms dealer has now turned businessman and shares his life's adventurous journey with others to connect & learn from.

Ticket prices are as follows:
• $50  - VIP Ticket 

• $15   - Regular Ticket 

• $10   - Early Bird 

• $5     - Student Ticket 

• $180 - Annual Membership 
*** BOOK YOUR TICKETS NOW - LIMITED SEATS ONLY***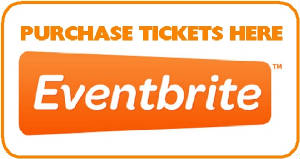 When & Where

University of Toronto
500 University Ave. Room 150
Toronto, ON M5G 1V7
Canada

Tuesday, 5 December 2017 from 5:30 PM to 8:30 PM (EST)
Add to my calendar
Organizer
You can achieve anything in life if you use the right strategy!
My personal and financial success in life have correlated with my productivity and the "hacks" I've implemented. I'm able to exponentially do more as I figured ways to systemize and automate my life and increase my productivity. 
The group is for all like-minded people are optimizing their life and want to discuss and share their experience to give us inspiration, ideas, and perspective on why certain techniques haven't worked for us. 

The happy life that you want is all possible, learn from others what has worked for them. Learn about yourself and why certain strategies work and don't work for you.
Topics we will cover in this group: 

• Top Proven Productivity 
• Morning Habits of Effective People and Why they Work
• Support to become accountable to yourself
• Health and Fitness Hacks 

• Investing/Financial Planning 

• Fashion Hacks 

• Hacks to be organized