Please join House of Anansi, PEN Canada, MOCA, and Aesop to honour the publication of No Friend but the Mountains by Behrouz Boochani.
About this Event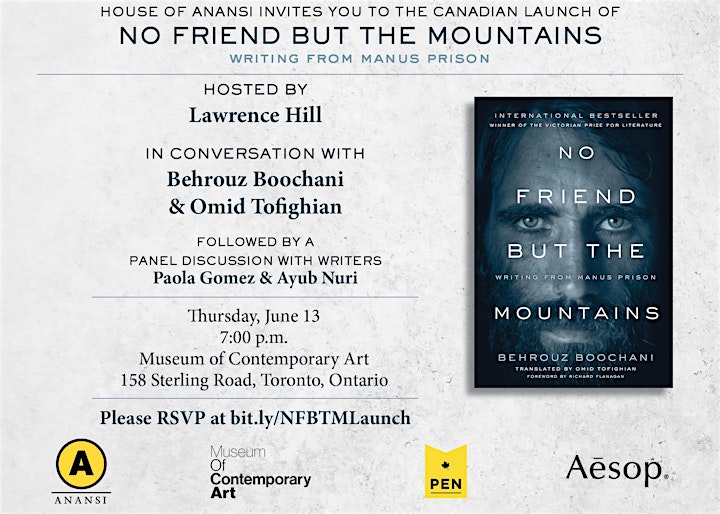 In 2013, Kurdish-Iranian journalist Behrouz Boochani was illegally detained on Manus Island, a refugee detention centre off the coast of Australia.
He has been there ever since.
This book is the result. Laboriously tapped out on a mobile phone and translated from the Farsi. It is a voice of witness, an act of survival. A lyric first-hand account. A cry of resistance. A vivid portrait of five years of incarceration and exile.
See our website for more information and an excerpt: https://bit.ly/2VTMYtF
BEHROUZ BOOCHANI is a Kurdish-Iranian writer, journalist, scholar, cultural advocate, and filmmaker. His memoir, No Friend but the Mountains: Writing from Manus Prison, won the Victorian Prize for Literature, Australia's richest literary prize, and the Victorian Premier's Prize for Nonfiction. Boochani has written for the Kurdish-language magazine Werya; is an Honorary Member of PEN International; won the 2017 Amnesty International Australia Media Award, the Diaspora Symposium Social Justice Award, the Liberty Victoria 2018 Empty Chair Award, and the Anna Politkovskaya Award for journalism; and is non-resident Visiting Scholar at the Sydney Asia Pacific Migration Centre (SAPMiC), University of Sydney. He publishes regularly with the Guardian, and his writing also features in the Saturday Paper, HuffPost, New Matilda, the Financial Times, and the Sydney Morning Herald. Boochani is also co-director (with Arash Kamali Sarvestani) of the 2017 feature-length film Chauka, Please Tell Us the Time, and collaborator on Nazanin Sahamizadeh's play Manus. He graduated from Tarbiat Moallem University and Tarbiat Modares University, both in Tehran; and he holds a Master's degree in political science, political geography, and geopolitics.
OMID TOFIGHIAN is a translator, lecturer, researcher, and community advocate, combining philosophy with interests in citizen media, rhetoric, religion, popular culture, transnationalism, displacement, and discrimination. He completed his Ph.D. in philosophy at Leiden University and graduated with a combined Honours degree in philosophy and studies in religion at the University of Sydney. His current roles include Assistant Professor of Philosophy at the American University in Cairo; Honorary Research Associate for the Department of Philosophy, University of Sydney; faculty at Iran Academia; and campaign manager for Why Is My Curriculum White? — Australasia. He has published numerous book chapters and journal articles, and is author of Myth and Philosophy in Platonic Dialogues, and is translator of Behrouz Boochani's book No Friend but the Mountains: Writing From Manus Prison.
LAWRENCE HILL is a professor of creative writing at the University of Guelph. He is the author of ten books, including The Illegal, The Book of Negroes, Any Known Blood, and Black Berry, Sweet Juice: On Being Black and White in Canada. He is the winner of various awards including The Commonwealth Writers' Prize, and two-time winner of CBC Radio's Canada Reads. Hill delivered the Canada-wide 2013 Massey Lectures, based on his non-fiction book Blood: The Stuff of Life. He co-wrote the adaptation for the six-part television miniseries The Book of Negroes, which attracted millions of viewers and won eleven Canadian Screen Awards. The recipient of nine honorary doctorates from Canadian universities, as well as the 2017 Canada Council for the Arts Molson Prize, Hill served as chair of the jury of the 2016 Scotiabank Giller Prize. He is a volunteer with Book Clubs for Inmates and the Black Loyalist Heritage Society, and is an honorary patron of Crossroads International, for which he has volunteered for more than 35 years and with which he has travelled to Niger, Cameroon, Mali and Swaziland. A 2018 Berton House resident in Dawson City, he is working on a new novel about the African-American soldiers who helped build the Alaska Highway in northern BC and Yukon in 1942-43. He is a Member of the Order of Canada, has been inducted into Canada's Walk of Fame, and in 2019 was named a Canada Library and Archives Scholar. He lives in Hamilton, Ontario and in Woody Point, Newfoundland.
PAOLA GOMEZ is a trained human rights lawyer, community organizer, public speaker, artist facilitator, writer and dreamer. A member of PEN Canada's Writers in Exile and an advocate, Paola is involved in causes such as ending violence against women and forced migration. Paola is the co-founder and Director of Muse Arts and the Creator , Director and Producer of HAPPENING Multicultural Festival. Paola's work with refugee and newcomer communities have been greatly recognize in Canada, where she arrived as a refugee. Paola is the recipient of 2008 Amina Malko Award from the Canadian Centre for Victims of Torture, 2009 Vital People from Toronto Foundation for her community building initiatives, the 2016 Constance E Hamilton , Human Rights Award from the City of Toronto and the 2018 Champions of Change Award; excellence in the Arts from the Skills for Change.
AYUB NURI is a Canadian-Kurdish journalist. He has worked as a war correspondent and political writer since 2003, covering the Iraq war, the war against ISIS in Mosul and the Kurdish independence movement. He has a BA in global politics and a masters degree in journalism. He was born and raised in Halabja, Iraqi Kurdistan. His work has appeared in the New York Times, Time magazine, BBC, Washington Post, Toronto Star, Rudaw Media Network. He was writer-in-residence at Swarthmore College, Pennsylvania and George Brown College in Toronto. He is the author of Being Kurdish in a Hostile World, 2017.