Park Theatre Proudly Presents No Fun At All
About this event
No Fun At All Bio:
It's a long way home from wherever you are if your hometown is SKINNSKATTEBERG/FAGERSTA in Sweden while going bonkers all over the world for more than a decade. With four albums and two compilations "No straight angles" 1994, "Out Of Bounds" 1995, "The Big Knockover" 1997, "EP's Going Steady" 1998, "State Of Flow" 2000 and "Master Celebrations" 2002. So in 2001 NFAA took a break! In 2004 we started doing occasional re-union gigs. One thing led to another and suddenly a new album had been recorded in Studio Underground. The new album 'Low Rider' shows that NFAA today is back to the sound of the early days. Drawing major influences from bands as RAMONES, early BAD RELIGION, ROKY ERICKSON, early US punk/HC and 67-72. The album is comprised of thirteen orginals written by the two headed dog 'FAKTA & INGO', plus a cover version of IN FLAMES 'EPISODE 666'. In the spirit of D.I.Y the first release is on our own label 'BEAT ÉM DOWN RECORDS'. Marketing, administration and distribution are handled by Stockholm based company Deaf & Dumb Music and its subsidiary partners all over the world.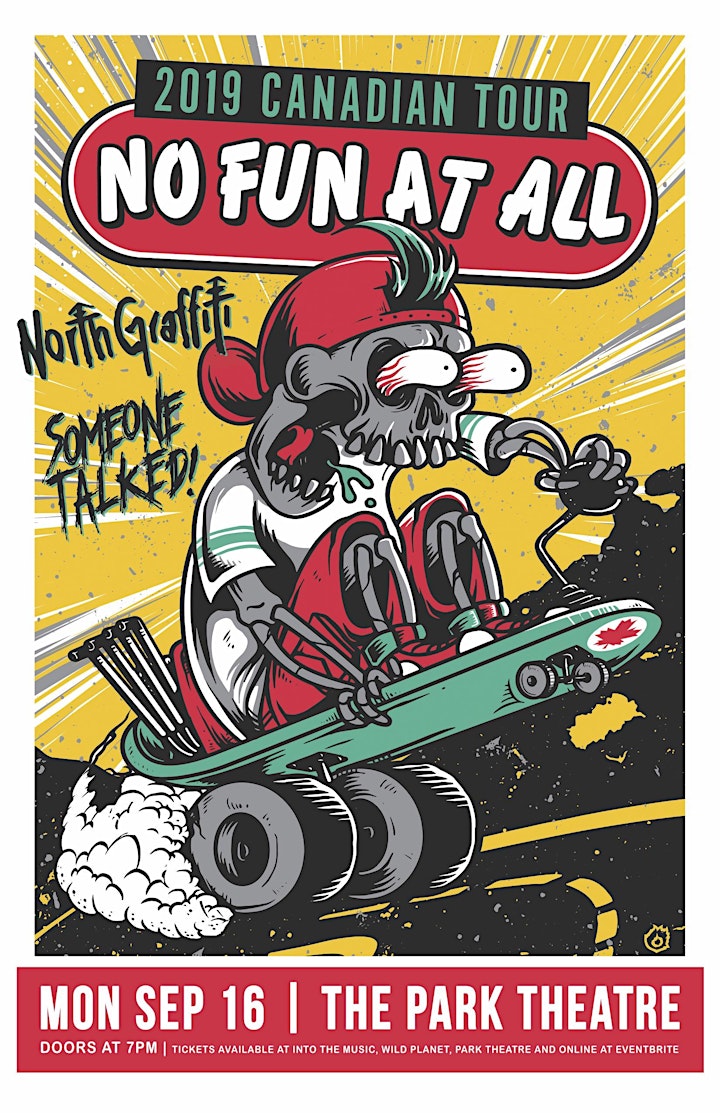 Performers
Date and time
Location
Refund policy
Organizer of No Fun At All
The Park Theatre, now in its fifteenth year of operations and has grown into one of Winnipeg's premier live event venues. With over 300 events a year spanning music, comedy, theatre, and film, the room has become home to an expansive community of artists.
In 2014 The Park Theatre was awarded "Venue of the Year" at the Western Canadian Music Award's, after being nominated for the same award in both 2012 and 2013.
The venue itself is a renovated movie theatre that opened in the fall of 1915. While many of Winnipeg's neighbourhood theatres have been demolished or "repurposed" into bowling alleys or retail stores. The Park managed to hold out for 73 years before fate caught up with it. After sitting vacant for nearly a decade it was revived into what is now one of Winnipeg's most popular live music venues.
With its high-quality sound, great atmosphere, two full-service bars, and premier live entertainment from local acts to international touring artists, it's no wonder that artists and audiences alike keep coming back.