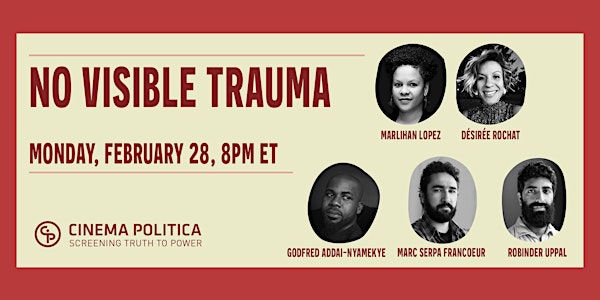 NO VISIBLE TRAUMA - Conversation with Directors and Special Guests
NO VISIBLE TRAUMA Special event with Marc Serpa Francoeur, Robinder Uppal in conversation with Marlihan Lopez & Godfred Addai-Nyamekye
Refund Policy
Contact the organizer to request a refund.
Eventbrite's fee is nonrefundable.
About this event
In 2018, the Calgary Police Service shoot and killed more people than officers in any other Canadian city, and more than either the New York or Chicago police departments. In the midst of a global uprising against police brutality and systemic racism, NO VISIBLE TRAUMA examines a deeply troubled police department and reveals the devastating consequences of unchecked police brutality. Marc Serpa Francoeur and Robinder Uppal's look at three recent cases of police abuse of authority in Calgary touches on anti-Black racism, wellness checks, and unnecessary use of force.
CONVERSATION: Join us for a live-stream conversation with NO VISIBLE TRAUMA directors Robinder Uppal and Marc Serpa Francoeur with activists Godfred Addai-Nyamekye and Marlihan Lopez (Coalition to Defund the Police, Simone du Beauvoir Institute) moderated by educator and scholar Désirée Rochat on Monday, February 28 at 8PM EST
FILM STREAMING: NO VISIBLE TRAUMA will be available to stream (in Canada only) from Friday, February 25th, 12 PM until March 1st at11:59 PM (EST)
COST: Free / Suggested $7-10 donation
The film is closed-captioned in English.
Live captioning of discussion will be provided
**Streaming links will be provided via email.**
About the Speakers:
Marc Serpa Francoeur and Robinder Uppal
Marc Serpa Francoeur and Robinder Uppal are documentary filmmakers and interactive producers whose work builds on lifelong interests in immigration, diversity, and social justice issues. They are the co-creators of THE WORLD IN TEN BLOCKS (2016), a feature-length interactive documentary that was featured at Hot Docs, Sheffield Doc/Fest, and launched episodically in partnership with The Globe and Mail. Serpa Francoeur and Uppal are the co-founders of Lost Time Media, which has produced a wide range of linear and interactive documentaries since 2013. Recent films include THE HEAD & THE HAND (2018), which had its World Premiere at Hot Docs and was listed by DOC NYC as one of the top twelve contenders for the Oscars' Documentary Short category. In 2019, they produced HAVEN, an award-winning short documentary about North America's first prescription heroin program. They are also in production on LOVE IN THE TIME OF FENTANYL, a feature-length documentary produced in partnership with ITVS and with the support of the Sundance Documentary Film Program.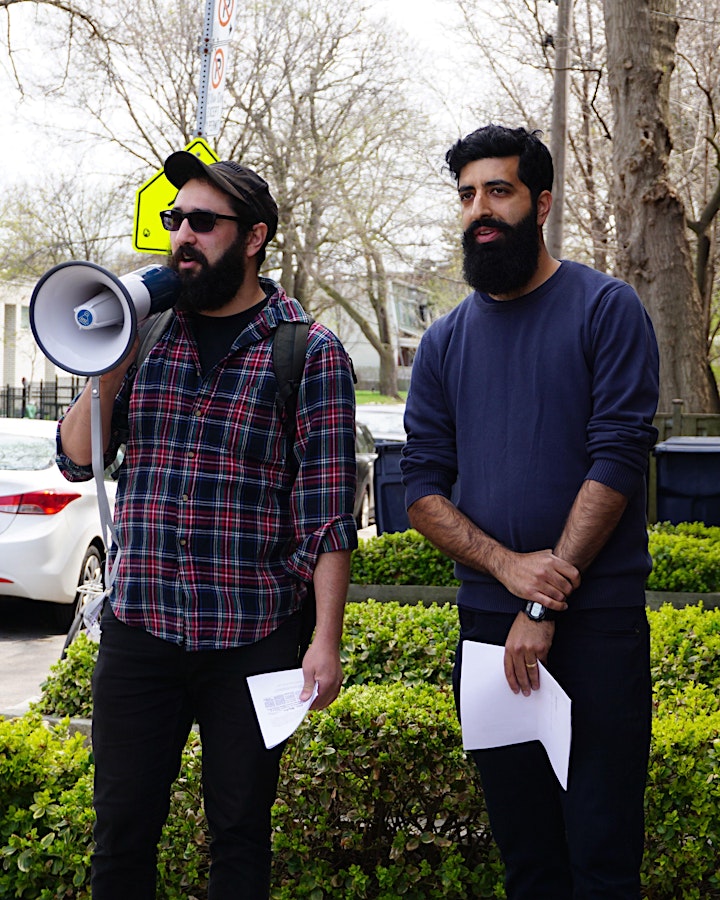 MARLIHAN LOPEZ
Marlihan Lopez is a Black feminist activist and community organizer tackling issues surrounding anti-blackness, gendered based sexual violence and its intersections. She coordinated the intersectionality division for the Quebec Coalition of Rape Crisis Centres, where she did advocacy work and raises awareness on how gender, race, class and ability intersect in the context of sexual violence. She has also organized with movements such as Black Lives Matter and Montréal Noir around issues such as racial profiling and police brutality. She is currently co-Vice-President for la Fédération des femmes du Québec and Program and Outreach Coordinator at the Simone de Beauvoir Institute. She is also a co-founding member of the Coalition to Defund the Police in Montreal, Quebec.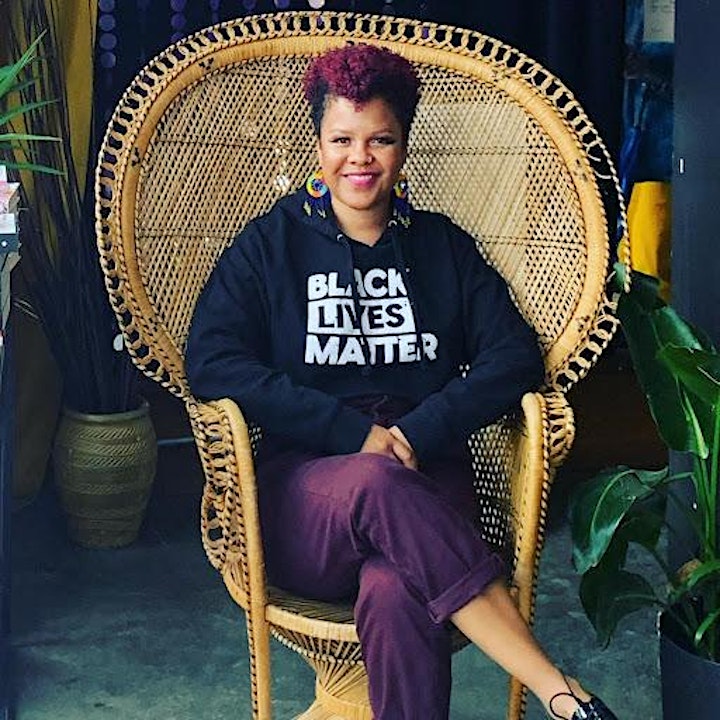 Godfred Addai-Nyamekye
Godfred Addai-Nyamekye was born and raised in Ghana, West Africa. He immigrated to Canada as a teenager and life was great in terms of friends, employment, and relationships — but everything changed on December 28th, 2013 when he was abused horrifically by members of the Calgary Police Service. Godfred has been fighting for justice and systemic change ever since, and had the courage to share his story in the documentary ABOVE THE LAW (CBC Docs POV) / NO VISIBLE TRAUMA (theatrical).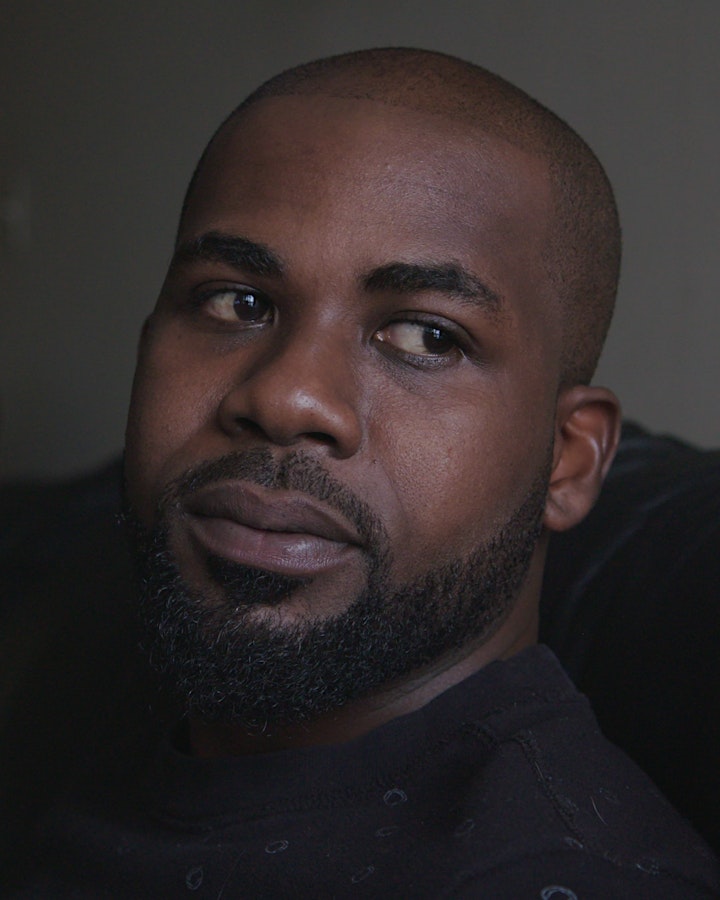 Désirée Rochat
Désirée Rochat is a community educator and a transdisciplinary scholar. Her work is guided by an integrative approach connecting community work, historical research, community-based archival preservation and popular education. Through her practice, she documents, theorizes and transmits (hi)stories of Black communities' activism. She holds a PhD in Educational Studies from the Department of Integrated Studies in Education at McGill University.