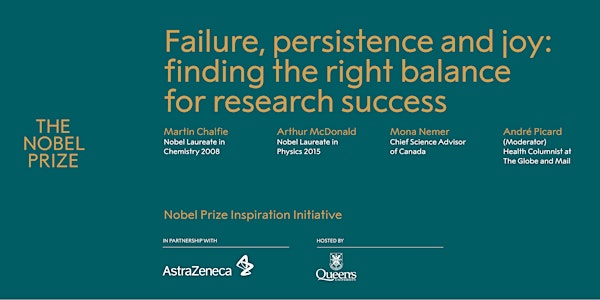 Nobel Prize Inspiration Initiative at Queen's University
"Failure, persistence and joy: finding the right balance for research success" – A public dialogue moderated by André Picard
When and where
Location
Isabel Bader Centre for the Performing Arts 390 King Street West Kingston, ON K7L 2X4 Canada
About this event
Thank you for the extraordinary enthusiasm for this event! It is now sold out. However, you can still experience it by watching on our Queen's Livestream page or on our Queen's University Facebook page.
To join our wait list or receive a reminder about the Livestream, continue to register for tickets on Eventbrite.
The path to research success includes many ups and downs and can take you to unexpected places.
Please join us on September 25th as Queen's University hosts the Nobel Prize Inspiration Initiative, featuring Martin Chalfie, 2008 Nobel Laureate in Chemistry.
In a public dialogue moderated by preeminent journalist, André Picard, Dr. Chalfie will be joined by Queen's researcher Dr. Arthur McDonald, 2015 Nobel Laureate in Physics , and Dr. Mona Nemer, Chief Science Advisor to the Government of Canada, to discuss the path to the Nobel Prize and research success.
The event will provide a unique and exclusive opportunity for students, researchers, and community members to interact with some of the most recognized members of the international research community.
Following the discussion there will be a moderated Q&A period, as well as a reception with light refreshments.
All are welcome!
Moderator:
André Picard – Health reporter and columnist for The Globe and Mail and author of five bestselling books. He was named Canada's first "Public Health Hero" by the Canadian Public Health Association, as a "Champion of Mental Health" by the Canadian Alliance on Mental Illness and Mental Health, and received the Queen Elizabeth II Diamond Jubilee Medal for his dedication to improving health care.
Panelists:
Dr. Mona Nemer – Chief Science Advisor to Canada's Prime Minister, Minister of Science and Cabinet. Dr. Nemer is a leader in the area of molecular cardiology having discovered several genes essential for normal heart development and function. Her work has contributed to the development of diagnostic tests for heart failure and the genetics of cardiac birth defects.
Dr. Martin Chalfie – Recipient of the 2008 Nobel Prize in Chemistry "for the discovery and development of the green fluorescent protein, GFP." He is a faculty member at Columbia University. Dr. Chalfie is the featured Nobel Laureate during the Nobel Prize Inspiration Initiative's first Canadian tour.
Dr. Arthur McDonald – Recipient of the 2015 Nobel Prize in Physics "for the discovery of neutrino oscillations, which shows that neutrinos have mass." A Queen's researcher since 1989, Dr. McDonald has also been the Director of the Sudbury Neutrino Observatory (SNO) Scientific Collaboration with whom he received the 2016 Breakthrough Prize in Fundamental Physics. His legacy on basic research in neutrinos and dark matter, as well as fostering the next generation of physicists, continues with the Arthur B. McDonald Canadian Astroparticle Physics Research Institute based at Queen's University.
About the Nobel Prize Inspiration Initiative:
The Nobel Prize Inspiration Initiative is a global program designed to help Nobel Laureates share their inspirational stories and insights. As one of only four institutions selected to host the Initiative during its first Canadian tour, Queen's is excited to offer a public dialogue on the right balance for research success.
Transportation:
Shuttle Service from Queen's main campus to The Isabel will be in operation from 1:15 pm – 2:00 pm and 3:45 pm – 4:30 pm at the following pick up/ drop off points:
School of Medicine Building (Stuart St. Entrance)
John Deutsch University Centre [JDUC] (87 Union St.)
Chernoff Hall (90 Bader Ln.)
Bus routes from main campus:
Bus routes from west campus:
Walking distance from main campus:
Walking distance from west campus:
Parking information at The Isabel
Queen's is committed to an inclusive campus community. Please email researchcommunications@queensu.ca for accommodation requests.