Description
Why it's the perfect time be a copywriter and how you can become a great one.
We realize there's a lot of mystery surrounding the role of a Copywriter. A lot of people don't really understand the basics of the job and it's role in our industry, even though the rise of the digital space has made copywriting more relevant than ever before. If you still don't know and want to find out 'what is a copywriter' then we got the perfect event for you.
Who is this for?
If you're a 4th year student or post-graduate curious about a job in advertising and want to learn more about Copywriting as a career then this event was made for you. If you already know what Copywriting is and what the job is like then you'll want to skip this one and stay tuned for our next event!
Come join us at Miami Ad School Toronto as we invite Steve Persico, SVP, Creative Director at Leo Burnett, to give you an intro to the job, what's expected of a writer today, and some tips on how to be a great one. Don't miss out on learning from one of the top Copywriters in North America!
As a bonus, Steve will be hosting a free private Copywriting focused workshop the next day. Hear about the job at this event and then actually experience what it's like the day after. We're limiting this workshop to 20 people, you need to sign up for the event to be eligible for the workshop. Get on the waitlist for the workshop here: https://nobodyreadsworkshop.eventbrite.ca
Takeaways:
- Learn what copywriting is and it's importance in advertising.
- Find out what the job of a Copywriter encompasses.
- Hear from our speakers experience why this is a good career and how to get great at it.
Doors open at 6:30 PM and the keynote talk starts at 7 PM. Soft drinks and snacks will be provided.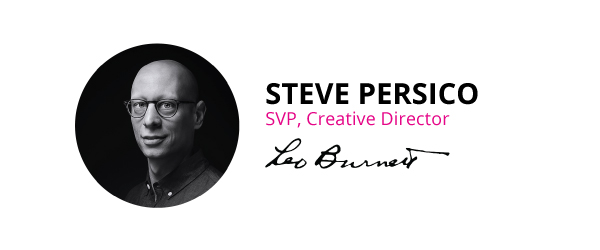 About Steve:
Steve is a writer, builder, snacker, sketcher, cleaner. He has been reaching for the stars with Leo since 2005. His passion for creativity in all forms has helped Leo Burnett earn an international reputation as a place for world-changing thinking. As part of Leo's Global Product Committee, Cannes Lions judging panel and the Miami Ad School Toronto Board, he's been able to share his passion for the work.