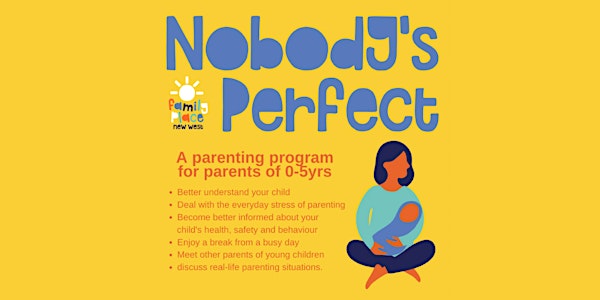 Nobody's Perfect Parenting Program | April 15 - May 20, 2021
Parenting is a rewarding but also challenging journey; Nobody's Perfect is here to offer encouragement and support along the way.
About this event
Nobody is born knowing how to be a parent. NOBODY'S PERFECT is a group facilitated by our trained staff for parents of children from birth to age five.
This program is provided to support you in:
- Better understanding your child
- Becoming better informed about your child's health, safety and behaviour
- Improving coping skills to deal with the everyday stress of parenting
- Developing positive parenting skills
- Meeting other parents of young children to discuss real-life parenting situations
- Finding community services and resources
DATES: Thursdays (April 15 to May 20)
TIMES: 11:00AM - 12:30PM (1.5hrs)
DURATION: Participation is all 6 sessions is recommended
COST: FREE
LOCATION: Zoom (online)
REGISTRATION IS REQUIRED
Please note that registering on Eventbrite does NOT guarantee you place in the program. All applicants are contacted and are required to go through a short interview process to see if they are eligible, and will be contacted if they have been selected.
For more information on this program see the following links:
https://www.canada.ca/en/public-health/services/publications/healthy-living/key-concepts-nobodys-perfect.html
https://www.canada.ca/en/public-health/services/health-promotion/childhood-adolescence/parent/nobody-perfect.html
NOBODY'S PERFECT is owned by the Public Health Agency of Canada