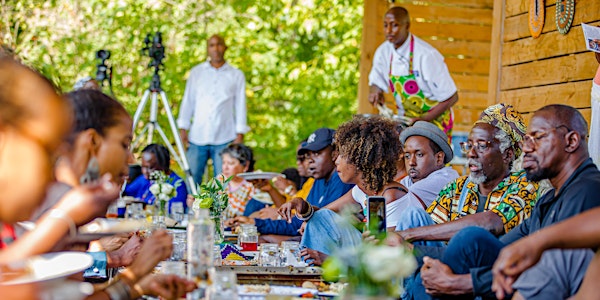 Nomadic Comfort Food: Farm Tour and Brunch
Join us for an afternoon farm tour and Nomadic Comfort Food Brunch by Chef Bashir Munye
When and where
Location
The Barn at Fresh City Farms 160 Downsview Park Blvd. Toronto, ON M3K 0C8 Canada
About this event
Chef Bashir Munye is back for a new iteration of the Nomadic Supper series, an acclaimed and well-loved event with a long history in the city of Toronto.
Celebrating Black urban growers at Downsview Park – each from the horn of Africa (Somalia, Uganda, Tanzania, and Kenya), Chef Bashir will lead a farm tour, group harvest, and cook up a delicious meal in the Nomadic Supper tradition, seated on cushions on the floor. (BYOC – Bring Your Own Cushion!) Taking place at the iconic, newly built barn Barn at Fresh City Farms, this is an event not to be missed.
Chef Bashir, Jessey of Zawadi Farm, Arnest of SARN Farms, and Judith of Ubuntu Community Farm will lead conversations and share stories throughout the event.
What to Expect
The Event will take place rain or shine, but we recommend dressing for the weather so you can fully enjoy the farm tour and harvest. Given that early October weather is unpredictable, we encourage warm layers as the Pavilion (where we will eat) is not heated.
In addition to bringing their own cushion to sit on, guests will be asked to remove their shoes upon entering the Pavilion.
Menu
TBD
*Please note that alcohol will not be served at this event.
Event Timing
Attendees will arrive at 11AM and enjoy a farm tour of Zawadi Farm, Ubuntu Community Farm, and SARN Farms just steps from the Barn, followed by collectively harvesting fresh vegetables right from the vine. The ingredients then be used by Chef Bashir and his team to craft a beautiful meal to enjoy over the course of the afternoon, while we converse and eat together.
About Chef Bashir Munye
Bashir's style of cooking is identified as Nomadic Comfort Food. It's a way of cooking driven by local, seasonal ingredients with an ability to recreate something that feels like home. He has created cooking classes, a supper series and dining experiences to offer space to educate around the intersectionality between ideas of "local" and diversity.
Currently, Bashir is a Culinary Professor at George Brown College, teaching The Sustainable Chef and Slow Food programs. He recently completed his Masters Degree at York University, specializing in the Decolonization of Food.
A true global child, Bashir's experience of food embraces many geographical and cultural boundaries. He is proudly born in Mogadishu, and raised in Italy, travelled across Europe and moved on to the U.S. before coming to Toronto. Growing up in the Mediterranean, being surrounded by fresh, seasonal foods was the norm. He connects with local farming and artisan food business communities and imparts his connection with terroir and the community.
About the Farmers
Jessey Njau, Zawadi Farm
Technology enthusiast turned land steward at Zawadi Urban Farm, Jessey is Kenyan born and is on a mission to building meaningful connections to our our source of food, building resilient local economies lasting generations.
Arnest Sebbumba, SARN Farms
Founder of SARN Farms, Arnest is from Uganda and moved to Canada in 2018. An avid farmer who has been farming since his teenage years, Arnest enjoys working towards finding solutions to challenges communities face – and that is the basis on which SARN Farms was founded. SARN Farms addresses food insecurity and promotes access to healthy, culturally diverse foods, grown organically right here in Toronto. SARN Farms is in its second year of operation at Downsview Park and has grown from 4138sq ft to 1 acre.
Judith, Ubuntu Community Farm
Judith Prince is the founder and director of the Ubuntu Community Collective and the main farmer for Ubuntu Community Farm. Ubuntu is a community collective focused on serving women and children of the African diaspora. Through connection and authenticity, we cultivate a safe healing space to help families reclaim their power and contribute to the healing process needed to build resiliency against systemic barriers.
Ubuntu Community Farm is an extension of the Ubuntu Community Collective's commitment to empowering mothers of the African diaspora. In May 2022, we broke ground on a new 1/2 acre urban farm plot in Downsview Park in Toronto. We grow using organic and regenerative farming practices. This year we tried a wide range of crops to learn more about the landscape and soil. Our intention is to centre and prioritise the food security needs of African Diasporic women-led families who deserve dignified access to fresh healthy clean food. At Ubuntu Community Farm, we cultivate land-based learning, provide a space for ritual and healing, and explore innovative models to provide affordable healthy fresh food to families in our community. Our objective is to build food sovereignty, reconnect communities of the African diaspora to the healing benefits of Mother Earth and to ancestral food growing practices.
*Please note that this event will be photographed/video recorded in some capacities. By choosing to attend, you are providing permission to be a part of the photographed event.