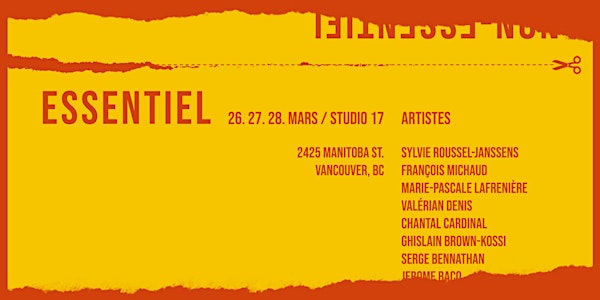 Multiple dates
(non) ESSENTIEL
Exposition du travail que 8 artistes visuels francophones de C.-B. ont produit pendant la pandémie. (non) essentiels l'art et la culture?
Date and time
Fri, Mar 26, 2021 12:00 PM - Sun, Mar 28, 2021 6:00 PM PDT
Location
Studio 17 2425 Manitoba Street Vancouver, BC V5Y 3A4 Canada
About this event
Mesures sanitaires en place. Masque obligatoire pendant la visite. Réservations gratuites recommandées. Gel à l'entrée. Pas plus de 5 visiteurs à la fois.
Cet événement se tient sur les territoires non cédés des Premières nations Squamish, Musqueam et Tsleil-Waututh.
Activité organisée dans le cadre du Printemps de la francophonie de SFU. Merci au Bureau des affaires francophone et francophiles de SFU et au Conseil culturel et artistique de la Colombie-Britannique pour leur soutien.
Si la pandémie, le confinement, les crises sociales, politiques et économiques que nous avons vécus depuis le printemps 2020 ont affecté les uns et les autres dans le monde entier, ils ont eu des effets contradictoires et variés sur le travail des artistes visuels. Outre les multiples annulations d'expositions et de projets, certains artistes se sont sentis démotivés et en panne d'inspiration, alors que d'autres ont profité de ce temps entre parenthèses pour créer des œuvres en adéquation avec ces crises. La liberté d'esprit et la concentration nécessaires à la création ont manqué à certains, tandis que d'autres ont ressenti la nécessité de s'exprimer et de créer des liens à travers leur travail. Car, en définitive, l'art et la culture sont essentiels à la santé mentale de tous.
Pour calmer l'angoisse liée à la perte de revenus, l'annulation des projets, la possibilité de la maladie, l'insécurité, le manque de perspective, le manque de liens sociaux, l'éloignement etc., pour agir quand tout semble impossible, pour continuer à faire partie de la société, pour exprimer leur vécu au cours de ces crises, pour dénoncer les injustices sociales ou environnementales, pour réfléchir à la place de l'art dans la société, pour réfléchir à ce que pourrait être «le monde d'après», pour se réinventer, certains artistes visuels ont créé des corpus d'œuvres collant à ces réalités temporelles.
Sylvie Roussel-Janssens, François Michaud, Ghislain Brown-Kossi, Marie-Pascale Lafrenière, Jérôme Baco, Valérian Denis, Chantal Cardinal (aka Felt à la main with love) et Serge Bennathan font partie de ceux-là.
Ils montreront le travail qu'ils ont créé depuis le début de la pandémie sur ces thèmes, les 26, 27 et 28 mars 2021 au Studio 17 (2425 Manitoba Street) à Vancouver, lors de (non) Essentiel, une exposition présentée par lecollectif, le Bureau des Affaires Francophones et Francophiles de SFU et le Conseil Culturel et Artistique Francophone de la Colombie-Britannique dans le cadre du Printemps de la francophonie 2021.