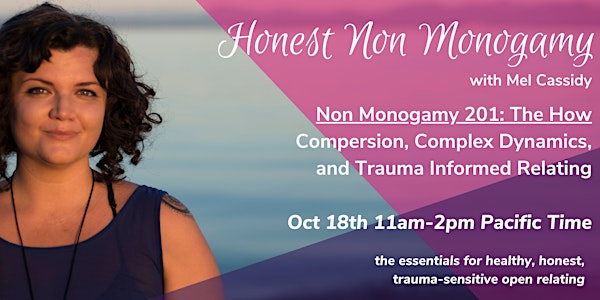 Non Monogamy 201: Compersion, Complex Dynamics & Trauma Informed Relating
A mini workshop for those wanting to deepen their explorations of open relationships and honest non monogamy.
When and where
Date and time
Sun, Oct 18, 2020 11:00 AM - 2:00 PM PDT
Refund Policy
Contact the organizer to request a refund.
About this event
A mini workshop for those new to and experienced with exploring open relationships and honest non monogamy.
This workshop is all about befriending our 'brain demons', those gremlin-like stories that can seize hold of us when we feel activated, afraid, jealous, or scared in our non-monogamous relationships.
We'll explore how to understand our fears and jealousies, dive into cultivating compersion, and learn how to balance multiple relational needs(  (and what to do when they come into conflict with one another) — and more!
This is a space to get messy, real, and honest about what you want. You'll get to ask your questions, meet other folks exploring non-monogamy, hear new perspectives, and come away with clear tools and frameworks to help you explore open relationships in healthy, trauma-sensitive ways.
💫 Sliding scale rates available (prices in CAD$)
💌 Got questions? send me a dm.
This workshop will be held online, and will be interactive, featuring breakout discussions and a 15 min break.
~~~~~~
Accessibility Information:
Accessibility is important, and it matters a LOT to me.
I'm currently updating myself on the new accessibility features for Zoom, and hope to be able to implement closed captioning for this workshop. If you have specific accessibility needs that impact your ability to participate in online workshops, please send me an email melinacassidy@gmail.com so I can work to make sure your needs can be accomodated. Thank you so much.
~~~~~~~~~~~
Mel Cassidy is a relationship coach and sex-positive nerd who guides social misfits and cultural rebels to experiences of joyful, embodied, authentic open relationships. Mel is certified in Counselling for Intimacy and Relationships, Holistic Peer Counselling, and is a ZEGG Forum facilitator. They are a student of the Institute for the Study of Somatic Sexology and pursue studies focused on trauma-informed approaches to the mind-body relationship. Creator of The Monogamy Detox online program, they are dedicated to creating trauma-sensitive spaces where all beings can flourish.
With over two decades of experience teaching and facilitating in groups small and large, Mel has a reputation for innovation, novelty, and both thinking and living outside the box.
Mel is queer, and lives, loves, and dances on the traditional and unceded territories of the K'ómoks Nation in British Columbia, Canada.
Follow Mel on Facebook/Instagram/Twitter @radicalrelating
www.radicalrelationshipcoaching.ca
www.monogamydetox.com
About the organizer
I guide social misfits and cultural rebels to experiences of joyful, embodied, authentic, open relationships.

My goal is to empower you to have relationships that are healthy, courageous, and fulfilling.

I believe in your ability to craft and co-create the kind of relationship landscape you are excited to be part of every day.

I compassionately challenge you to examine how old ideas might be holding you back, how fear might be running the show, and I guide you through new skills and perspectives for building radical relationships.
www.radicalrelationshipcoaching.ca
IG/FB @radicalrelating

melina@radicalrelationshipcoaching.ca