A live-streamed staged reading of a new short digital theatre play, followed by a Q + A
About this event
NONA'S MALAIKA, is a futuristic comedy where the very opinionated smartphone and laptop of a 16-year old girl realize they are no longer the centre of attention of their owner, a teen struggling with her mental health.
DIGITAL THEATRE, STREAMED LIVE
Produced by Shakespeare in Action, NONA'S MALAIKA is a staged reading of a new short play written and directed by Katia Cafe-Febrissy. The event will stream LIVE on Saturday September 26 2020 at 7:00 from the Artscape Weston Common, followed by a talkback with the Director and the creative team, as well as a Q&A with a community expert on youth, social media engagement, and mental health challenges in the York South - Weston community. This digital theatre event, made possible with the support of the Canada Council for the Arts, will be available to watch through Youtube:
https://youtu.be/ydy3yTVG-9Q
Written and Directed by Katia Cafe-Febrissy
Featuring Malindi Ayienga, Amanda Cordner, and Matt Nethersole
Stage Manager: Alexandra Caprara
Costumes: Lucy Wong
With the support of the Canada Council for the Arts Digital Shorts program. Thank you to our friends at Artscape Weston Common.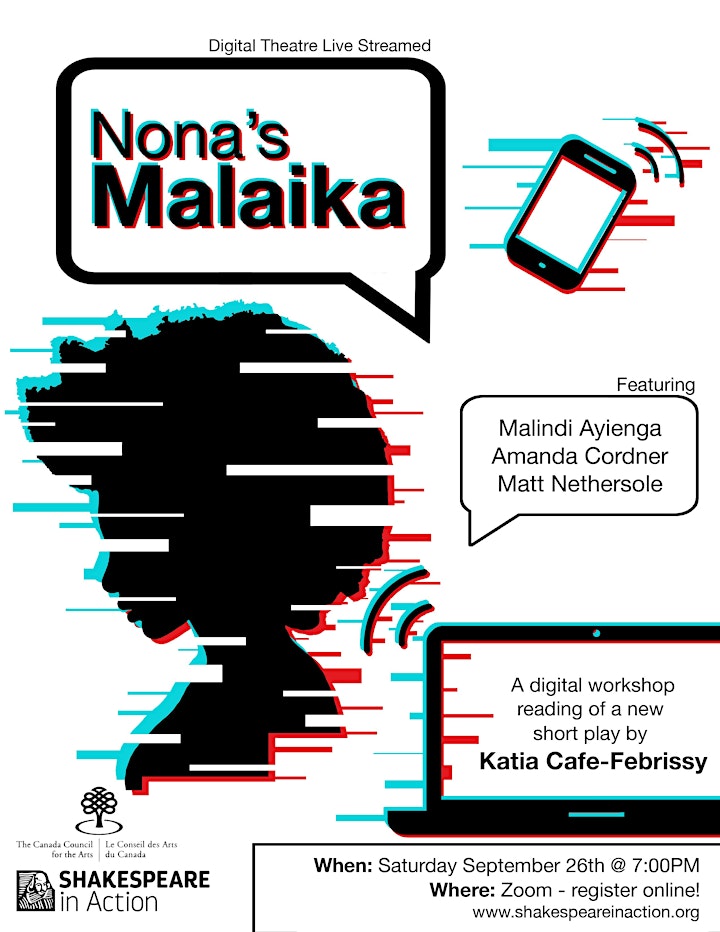 Organizer of Nona's Malaika - A Live-Streamed Staged Play Reading