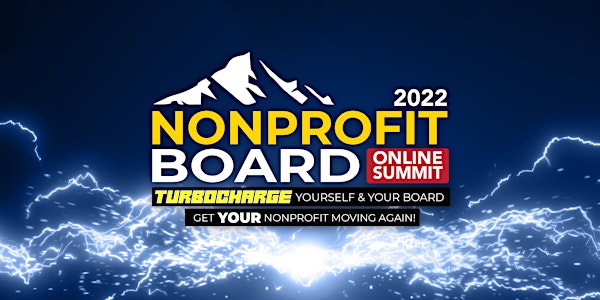 Nonprofit Board Online Summit
TURBOCHARGE yourself & your board. Get YOUR nonprofit moving again!
Refund Policy
Contact the organizer to request a refund.
Eventbrite's fee is nonrefundable.
About this event
You joined the board of directors at your nonprofit to relieve suffering and make a difference … but found yourself beset by obstacles you thought you'd escaped …. Most people join nonprofit boards to make a real difference … then encounter obstacles they didn't expect. We had the same experience.
But then we learned … It doesn't have to be this way.
In 2021, the first ever Nonprofit Board Summit changed everything for those who came! And now in 2022, we will reveal a big secret about nonprofits that's even more exciting. Nobody really works just for money, do they? We work to scratch that inner itch, that parched thirst for Meaning. We want to know our lives matter, and that we can help others find their Meaning too.
So why's it so hard? That's the question we had in our hearts when we set out 5 years ago.
And we've found some answers. Most people working in nonprofits find it all really complicated. And they end up complicating it further. When in reality…. it's all quite simple:
Most things involved in running a nonprofit are pretty trivial … But a very few things … matter hugely
The big questions for you are... Do you want to know what those rules of thumb are?
Do you REALLY want to be part of something bigger than yourself? Are you committed to playing full out?
Then come to Nonprofit Summit 2022!
This is what you'll hear:
HOW YOU can get sustained results and consistent buy-in from all Board Members...
HOW TO leverage tension in board meetings and turn it into AHA moments and renewed enthusiasm
HEAR how other boards recruit the right mix of skilled professionals like you to create a rewarding experience for EVERYONE…
HOW TO recognise (and AVOID) the common problems that affect nonprofits
COMPLETELY UNDERSTAND the financial side of nonprofits
HOW TO raise funds FAST!
and much, MUCH More!
At this summit, there will be people from all walks of life, all professions, all kinds of nonprofits, who are struggling with the same issues you are …
There is no other event like this out there …
All about UN-frustrating the world's capable-but-struggling nonprofit board members!
...AND MUCH MORE!
Gain unique access to:
Community
ENGAGE with fellow non profit board members from around the world
Content
HEAR from internationally-recognised nonprofit leaders who've been where you are now
Cause
IDENTIFY strategies to 10X your impact (even during uncertain times!)
A 1-day virtual summit
Turbocharge yourself & your board! Get YOUR nonprofit moving again!
SATISFACTION GUARANTEE
We're going to do something crazy. This event will cost you NOTHING. (Unless you opt for premium pass membership.) We guarantee the following. WHEN you participate in all summit sessions, AND you do all worksheets, AND you implement what you learn over the following 3 months... IF you get nothing out of it, we will host a private VIP Day ($7,500) for you at no additional cost!