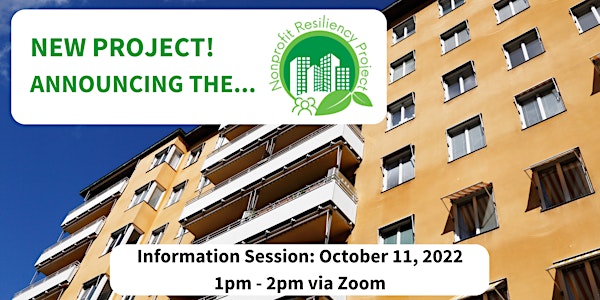 Nonprofit Resiliency Project: Information Session
We are excited to announce a new project within our Greener Homes London residential program, The Nonprofit Resiliency Project!
About this event
The Nonprofit Resiliency Project (NRP) will provide training, resources and guidance to nonprofit organizations that own multi-unit residential buildings that either permanently or temporarily house individuals to improve the sustainability of its buildings.
In addition to workshops, webinars, and sustainability kits, the NRP will also provide building walkthroughs in order to measure current impact and customized sustainability reports outlining recommended projects to implement to increase both comfort and efficiency.
To encourage participation, all services and offerings will be provided for free or at highly subsidized rates. As a bonus, each organization will receive $1,000 for signing up!
Information Session Description:
If this project is of interest to your organization, we encourage you to sign up for this Information Session. Led by Project Manager, Nicole Karsch, this webinar will provide detailed information including the project timeline, offerings and services and how to sign up as a participating organization.
If you are unable to attend the session but are interested in signing up your organization, please email nicolek@londonenvironment.net.
Register now to receive the link for the scheduled Zoom meeting!