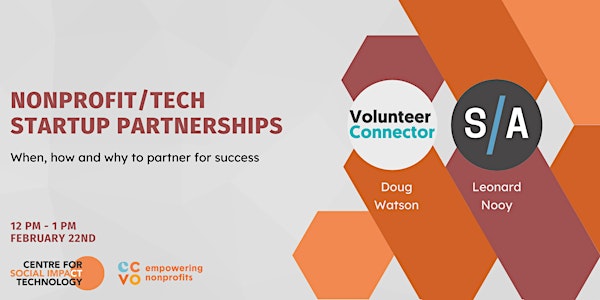 Nonprofit & Tech Startup Partnerships: When, how and why
Have questions about successful non-profit/tech partnerships? Share your questions and get answers from successful long-term partners!
By The Centre for Social Impact Technology
Date and time
Wed, Feb 22, 2023 11:00 AM - 12:00 PM PST
About this event
Are you a nonprofit looking to transform your work through a digital transition, but you're not sure where to start?
Are you an innovator or founder with a big idea that could revolutionize how nonprofits serve their community, but you're not sure how to connect with front line organizations?
Join Doug Watson, President & CEO of Volunteer Connector & Leonard Nooy, Partner at Structured Abstraction as they answer questions about how to ensure successful tech/nonprofit partnerships from their ten years of successful collaboration.
Doug & Leonard will be answering the most pressing questions that nonprofits and tech startups identify as barriers to successful collaboration across sectors.
When is the right time to reach out to collaborate?
How do collaborations finance this transition and continuing costs?
How do we show our client/community/staff/board that partnership is necessary?
What can collaborating across sectors do for your long-term sustainability?
and many more...
If you've ever had questions, here is your chance to ask them.
Panelists:
Structured Abstraction - is a technology and design firm that focuses on transformative software projects for positive-impact ventures. They work with organizations to remove obstacles and provide resources often reserved for privately funded startups — empowering them to explore new opportunities through digital transformation. This process can include: strategic planning, design, custom software development, fractional CTO, training, or technology stewardship. They build capacity by building community.
Volunteer Connector - is a charity that has been on the forefront of community building for over 65 years. They are the Volunteer Centre of Calgary and have transformed into working with regional partners all across Canada. Their commitment to providing digital solutions for volunteer engagement comes from an understanding that volunteers need to be engaged in a way that is consistent with the rest of their online lives.
We open this online webinar to all community practitioners in the nonprofit, public & private sectors including digital activists, tech entrepreneurs, academics, students and others interested in the potential - and perils - of using social impact technology to tackle wicked challenges in our local communities. No prior tech knowledge required!
Bring your questions, comments, and curiosity. We can't wait to see you!
---
Presented in partnership with the Calgary Chamber of Voluntary Organizations & Platform Calgary.
The Digital Commons is a community-based webcast initiative developed through the Centre for Social Impact Technology, meant to reach the community on intersectional issues that matter to them.
The Centre for Social Impact Technology nurtures dialogue, learning, and action where social innovation and digital technology innovation meet.