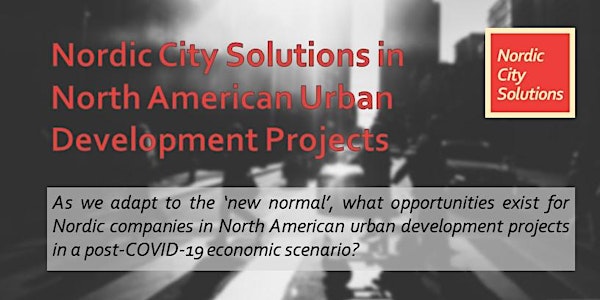 Nordic City Solutions in North American Urban Development Projects
As we adapt to the 'new normal', what opportunities exist for Nordic companies in US urban development projects in a post-COVID-19 economy?
When and where
Date and time
Wed, Jun 10, 2020 6:00 AM - 7:00 AM PDT
About this event
Prior to the dramatic shift brought on by the global public health crisis as a result of the corona virus, urban development has been happening at an aggressive pace in every corner of the North American market. As consumer demands and legislation have shifted towards a more public-health focused and climate-positive approach to development, there are considerable opportunities for Nordic companies to showcase their holistic approach, high level of technical expertise and solid businesses case to keen American partners.
But as a Nordic company looking to do business in the US urban development sector, questions arise, such as: Where do you start? What are the key market factors? How will this change moving forward?
This webinar will share insights into ongoing themes in the US-market, the differences between private sector and public sector projects and identify the barriers to entry for involvement in the urban development industry.
Nordic City Solutions will share opportunities for Nordic companies to collaborate with American partners in the US market place this fall with a web-based platform:
September 10, 2020 – Digital Hackathon Challenge – 7-week collaboration challenge on US-based development projects in Minnesota and Seattle.
October 27-28* – Seattle Nordic Urban Lab (Seattle, Washington USA)
October 29-30 *– Minnesota Nordic Urban Lab (Minneapolis-St.Paul, Minnesota USA)
*In-person activities scheduled pending safe travel circumstances. Digital option for direct pitches to be provided in case of ongoing restrictions or resurgence.
Agenda: 09:00 EST / 13:00 GMT/ 15:00 CEST / 16:00 EEST
00:00 Welcome
00:05 Overview of Nordic City Solutions
00:10 Impacts of the Corona Virus to Economic Activity in the Urban Development Sector in the USA
00:30 Nordic Urban Labs – How to meet your future business partner in the USA. Focus on key markets: Minnesota and Seattle.
00:45 Q&A
01:00 Wrap-Up
About the organizer
Nordic City Solutions is a public-private platform, facilitated by the five Nordic governments of Denmark, Finland, Iceland, Norway and Sweden through their Trade Promotion Organizations in North America.
The ambition of Nordic City Solutions is to connect Nordic experts in the realm of healthy, resilient and smart cities with project procurement opportunities in North American through the facilitation of a range of activities with Strategic Partners and local businesses involved in development projects in North America over the course of 2019 and 2020.