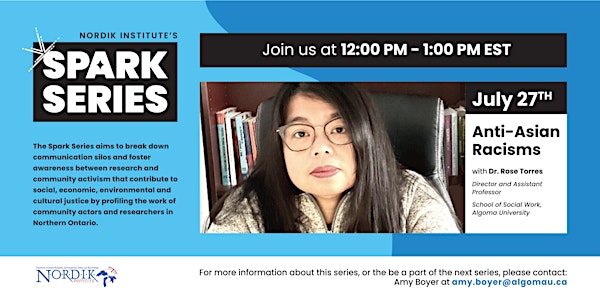 NORDIK SPARK Series: Anti-Asian Racisms with Dr. Rose Ann Torres
This presentation will discuss and deliberate the history of anti-Asian racism.
About this event
Abstract:
This presentation argues that white supremacy is fundamental to the formation of the Canadian nation and the rise of the post-war welfare state. In other words, does Asians even exist when Asians are considered the disordered other? This presentation looks outside the shaping of whiteness and to start asking ethical question of how Asians may look like within and without communities in the diaspora. To do this, this presentation discuss and deliberate the history of anti-Asian racism. I will include my initial research findings on the experience of Filipino health care workers in Northern Ontario during the Covid-19 pandemic and the different ways in which we can re-imagine Asians from a place of disorder.
Dr. Rose Ann Torres is the Director and Assistant Professor in the School of Social Work at Algoma University. She is currently a Visiting Professor at the Polytechnic University of the Philippines. Prior to joining Algoma University, she was an Assistant Professor at University of New Brunswick. Dr. Torres is currently the principal investigator of "Examining Access to Mental Health Care Service: The Impact of Covid-19 on Filipino Health Care Workers in Northern Ontario" and a co- principal investigator (with Dr. Nyaga) for a SSHRC funded project entitled: "Effects of Covid-19 on Teaching, and Learning: Stories of Indigenous and Racialized Faculty Members and Students at Algoma University. She co-edited two books on "Asian Canada is Burning: Theories, Methods, Pedagogies, and Praxes" with Fernwood Publishing (Forthcoming) and "Critical Reflexive Research Methodologies with University of Calgary Press" (Forthcoming).