Advanced Ticket Sales .. Save $3.00 Discount Rate Expires Nov 30, 2021 **TICKETS MUST BE PRINTED and handed in at the entrance.
About this event
**TICKETS MUST BE PRINTED and handed in at the entrance.
North America's Largest Motorcycle show, the 46th Annual North American International Motorcycle SUPERSHOW, Presented by NFP Insurance, will hit the International Centre, January 7, 8 & 9, 2022!
Friday January 7th 11AM - 9PM
Saturday January 8th 10AM - 8PM
Sunday January 9th 10AM - 5PM
You'll see thousands of Motorcycles at the Show; New, Used, Vintage, Racing, Scooters, Custom, Choppers, Touring, Cruising, Performance and Motocross bikes...  Your One-Stop-Shop for everything in Motorcycling!Don't miss the biggest Motorcycle show of the year, the 'BIG ONE by the AIRPORT', the Motorcycle SUPERSHOW in January, the only motorcycle show you'll need to attend! Check out all the Newest items in Motorcycling in massive displays with New Bikes, Huge Manufacturer and Dealer Displays, walk the Century of Motorcycles Exhibition, discover the hottest Shopping Bargains, check out the Enormous Used Bike Markets and find all of your Parts & Accessories for sale in hundreds of Exhibitor booths. Meet over 100 Clubs, Rides & Rallies, and Purchase your Bike right at the Show. Meet industry celebrities, and watch some of the biggest names in bike builders compete to win $50,000 in Cash and Prizes at The Canada Cup Championship Custom Bike Competition, sponsored by AMSOIL. Enjoy Live Music, and LIVE performances.
Our focus and top priority is the health, safety and well-being of our staff, exhibitors, volunteers and our loyal audience of motorcycle enthusiasts, and we will follow the guidelines and recommendations provided by the Ontario Government Public Health Authorities.
It's the 'BIG ONE by the AIRPORT', and you won't want to miss it!  NORTH AMERICA'S LARGEST MOTORCYCLE SHOW!The 'BIG ONE by the AIRPORT'January 7, 8 & 9, 2022
WWW.MOTORCYCLESUPERSHOW.CA
info@motorcyclesupershow.ca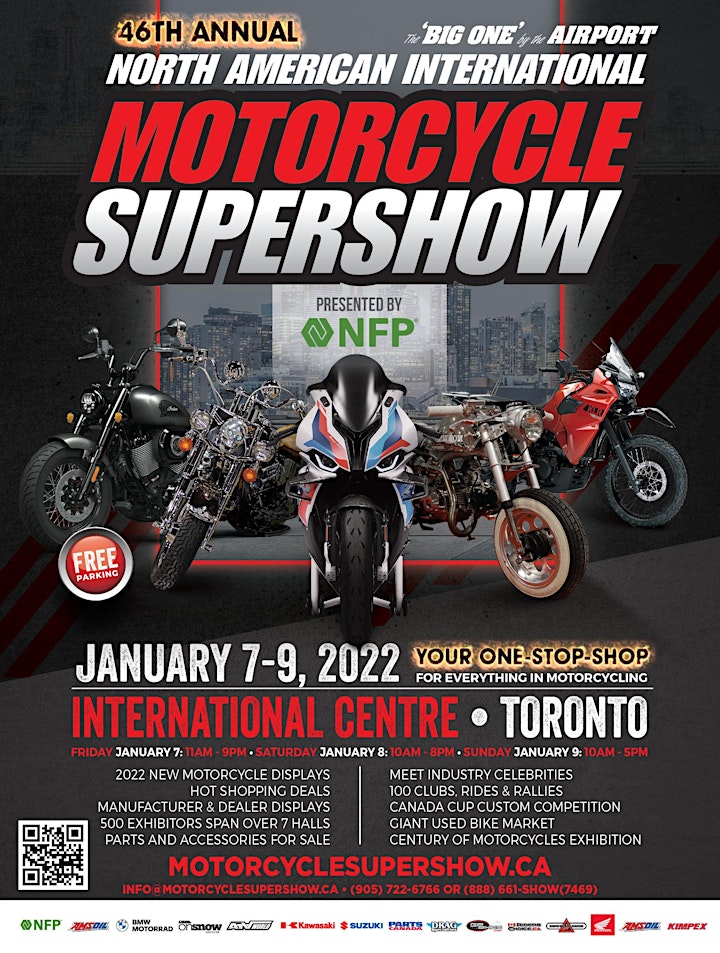 Organizer of North American International Motorcycle SUPERSHOW 2022