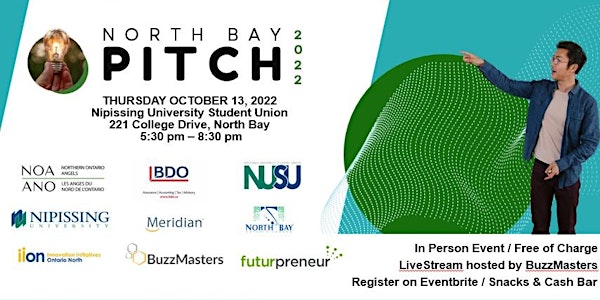 North Bay Pitch 2022
North Bay Pitch 2022 - Entrepreneurs and Innovators will pitch their businesses to Northern Ontario Angel Investors.
When and where
Location
Nipissing University Student Centre College Drive North Bay, ON P0H Canada
About this event
North Bay PITCH 2022 in person event that will take place on Thursday October 13, 2022 at the Nipissing University Student Union – (NUSU) Student Centre in North Bay from 5:30 pm – 8:30 pm. BuzzMasters will be streaming the Pitch Competition live on zoom. Register on Eventbrite for the zoom link so you don't miss a night of innovative ideas pitched to the Northern Ontario Angels to see who will come out on top!
Entrepreneurs, innovators and businesses in need of capital to start-up, commercialize, scale-up or expand are encouraged to apply. "This is your opportunity to pitch to over 400 accredited investors in the NOA network," said Ian Lane, Executive Director "Angel investing plays an essential role in economic development. Whether you are an active or potential angel, an aspiring entrepreneur or simply interested in strengthening our business community, we hope you will join us at the North Bay Pitch," said Lane.
"Angel investment networks provide much more than just needed financing for emerging and high potential companies and entrepreneurs. Their capacity to add value and de-risk investments through expert multi-sectoral strategic and operational capabilities and networks providing relevant skills, contacts, expertise cannot be underestimated." Rob Deline, Executive Director, IION
"Supporting start-ups and promoting entrepreneurship help to create an environment for business success," said North Bay Mayor Al McDonald. "Northern Ontario Angels is the kind of initiative that will help grow our city by providing investment capital that will create new employment opportunities and wealth. We are Open for Business in North Bay".
Become an angel investor
Investors looking to join Northern Ontario Angels are invited to express their interest by completing the on-line Investor Application at https://northernontarioangels.ca/investors/
For more information, contact:
Ian Lane, NOA Executive Director ian@northernontarioangels.ca 705-349-2324
Larry Fuld, NOA, Consultant (North Bay) larry@northernontarioangels.ca 847-845-5495
Kimberley Wahamaa-Deschenes, NOA Operations and Events Manager kim@northernontarioangels.ca 705-207-2658
Rob Deline, IION Executive Director rob@iion.ca 705-474-7600 ext. 5606
About NOA https://northernontarioangels.ca
NOA provides a vital link that connects Northern Ontario entrepreneurs with the investment and expertise they need to grow and find success. The organization helps entrepreneurs understand the investment process, giving them tools they need to become investment ready. Once a business is investment ready, Northern Ontario Angels helps to connect them with prospective investors. NOA was named the Leading Angel Investment Network in the country by The National Angel Capital Organization.
About IION https://iion.ca
Innovation Initiatives Ontario North (IION) is a Regional Innovation Centre that assists innovative entrepreneurs, start-ups and existing companies develop and scale. IION works collaboratively with a variety of strategic partners throughout the province to promote client growth and help to position them for future success. IION is located at Canadore College in North Bay but proudly serves the districts of Nipissing, Timiskaming, Parry Sound, and Muskoka.
##