North & South | Business Opportunities in the Arctic to the Americas
Description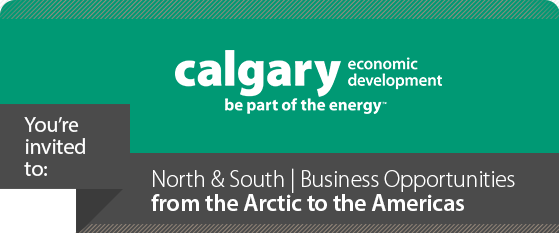 In partnership with the Winnipeg World Trade Centre, Calgary Economic Development invites you to learn about opportunities in the Arctic and Americas - the conference theme for Centrallia 2016.
EVENT AGENDA:
7:30 am Event registration
8:00 am Welcoming remarks & intro moderator Derek Earl – Bonnie
8:05 am Centrallia Conference Overview – Derek Earl
8:25 am The Americas at Centrallia – the importance of shifting to blocs in thinking about foreign markets
Canada West Foundation, Carlo Dade
The Centrallia Americas session will look at the unique opportunities and characteristics of the 3 dominant trade blocs in the hemisphere, NAFTA, the Pacific Alliance and the Mercosur common market. The session will offer insights to shape and guide foreign investment and trade decisions by firms including a discussion of the impact of the TPP on NAFTA. Carlo Dade, Director of the Centre for Trade and Investment Policy with the Canada West Foundation will speak on these trending topics.
8:40 am Overview of Economic Climate in Canadian North –
Conference Board of Canada, Bruce Leslie
The economic prospects of the Canadian North have never been better as the nation turns its eyes to the possibilities that are opening up. Bruce Leslie, Executive Director, Western Canada, will discuss what makes drives the economy in Canada's north and the outlook for the coming years.
Who should attend?
companies looking to grow and find new markets

decision makers and sernior execs in: business development, supply chain & procurement, innovation

investors

trade experts and supporting agencies