Description
Northern Arena Esports Bootcamps
Northern Arena Bootcamps are two-day camps where cyber athletes will develop technical and mental skills to increase their gameplay. Each location has a specific game and requires a minimum of game experience to fully experience the Northern Arena Bootcamps.
Inside Bureau en Gros Sous les projecteurs locations and equipped with the latest ASUS Republic of Gamers (ROG) computers and monitors, you'll be mentored by eSport experts from professional players to coaches. The days will be composed of various high intensity workshops aimed at rapid learning. With video analysis, live feedback and hands-on exercises, you'll receive coaching that's worthy of professional teams.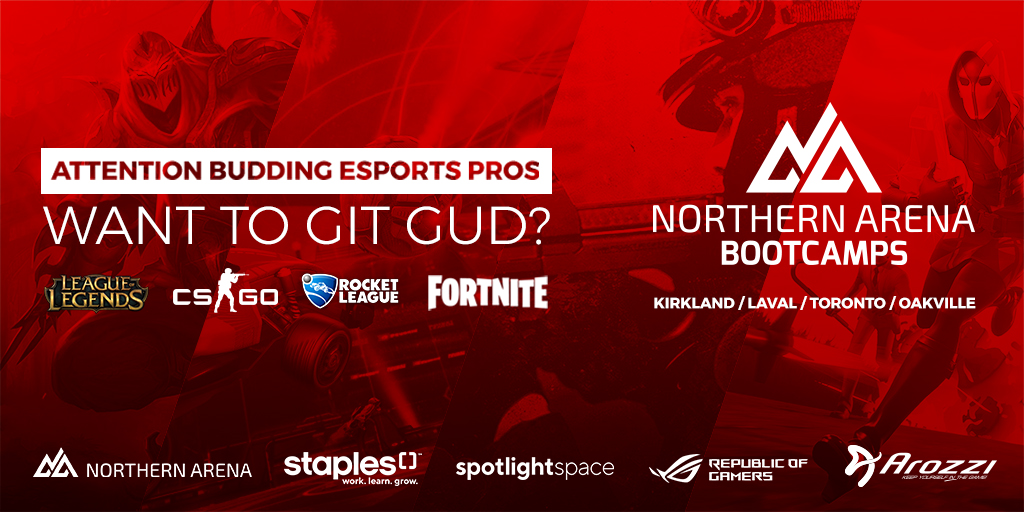 ---
About Northern Arena
Northern Arena has become the leader of esports throughout Canada and is focused on creating platforms for on-site events and online leagues. By working closely with various game developers, Northern Arena is aiming to bring these events and leagues to players and audiences seamlessly and professionally with world-class production quality and innovative content distribution methods. Canadian cities like Toronto, Montreal, and Vancouver are home to vast grassroots gaming communities that have been waiting for a pinnacle platform to enable Canadian esports to thrive. Northern Arena is dedicated to building comprehensive, integrated professional esports leagues and entertainment platforms for a variety of esports titles while still focusing on providing opportunities for grassroots communities to flourish.
To register
https://northernarena.ca/northern-arena-staples-canada-bootcamp/
---
What is Spotlight?
We know that staying up to date on today's big ideas and tomorrow's big trends is a job in and of itself.
As the world's first working, learning and growing store – we are excited to introducing Spotlight: a new community gathering and learning space. Spotlight will engage communities with knowledgeable experts to both inspire, inform, motivate and educate.
Spotlight is a space accessible to persons that use mobility devices. We encourage people from all backgrounds to participate in our public programming.