Northern Contaminants Program (NCP) Results Workshop - Atelier des resultat...
Description
The NCP Results Workshop, held every other year, is the main venue for Canadian scientists, Northerners and policy-makers to focus attention on the breadth of issues related to contaminants from long-range sources in Canada's North, to learn about and discuss the latest results, current state of knowledge and policy implications, and to plan for future initiatives. This Results Workshop will be the final event marking the NCP's 25th anniversary. We've come a long way since 1991/1992!
Also this year, there will be a pre-workshop 1/2-day session (optional), ideal for newcomers to the Northern Contaminants Program, that will serve as an introduction to the issue of long-range contaminants in the North and an overview of the Northern Contaminants Program.
Thank you and see you soon,
The 2017 NCP Results Workshop Organizing Committee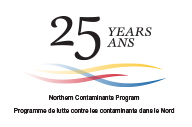 _______________________
L'atelier sur les résultats du PLCN, organisé tous les deux ans, est le lieu principal pour que les scientifiques, les résidents du Nord et les décideurs canadiens se concentrent sur l'ampleur des problèmes liés aux contaminants issus de sources à longue portée dans le Nord canadien, afin d'en apprendre plus et de discuter les résultats récents, l'état actuel des connaissances et les implications politiques, et de planifier les initiatives futures. Cet atelier de résultats sera l'événement final marquant le 25ème anniversaire du PLCN. Nous avons parcouru un long chemin depuis 1991/1992!

Aussi cette année, il y aura une
session pré-atelier de 1/2 jours
(facultatif), idéale pour les nouveaux arrivants du PLCN, qui servira d'introduction à la question des contaminants à longue distance dans le Nord et un aperçu du PLCN.
Merci et au plaisr de vous voir en grand nombre,
Le committé d'organisation de l'atelier des résultats du PLCN 2017