Back packing through the Canadian Shield! - 5 days in God's glorious creation! - 2 Days at Whispered Dreams Ranch! #dontbeKaren
About this event
BEAUTIFUL DETAILS FOR PARENTS:
COST*: $390 pp includes... transportation, meals, camp site & horseback riding (optional)
*if you need financial assistance, sponsorship is available - Contact Jason.
There is $400 of available funding at the Children's foundation called "free to grow". Follow the link to apply! Click Here
free to grow application form: Click Here
(please note ALL payments are paid directly to Grace Christian Fellowship via e-transfers and NOT this app, please disregard the word 'free')
REGISTRATION: To hold your spot
e-transfer $50 deposit to "giving@igrace.ca" must label it "Youth Event"
complete this application (must be properly completed to be valid)
You will be sent a full packet with all the details you need once registered.
REQUIREMENTS: Youth MUST complete:
4 wilderness classes that will be hosted throughout the summer, by Jason Durst. (More info will be given to registrants)
Swim test for trip safety (all swimming levels permitted)
TIMELINE:
Early Bird Registration & Deposit - May 20 ($20 Discount on Final Payment)
Deadline to Register - June 30 (ONLY 18 spots)
FINAL PAYMENT DUE: August 1, 2021
DISCLAIMER: All deposit and payments will be FULLY REFUNDABLE only if COVID restrictions cancel the event.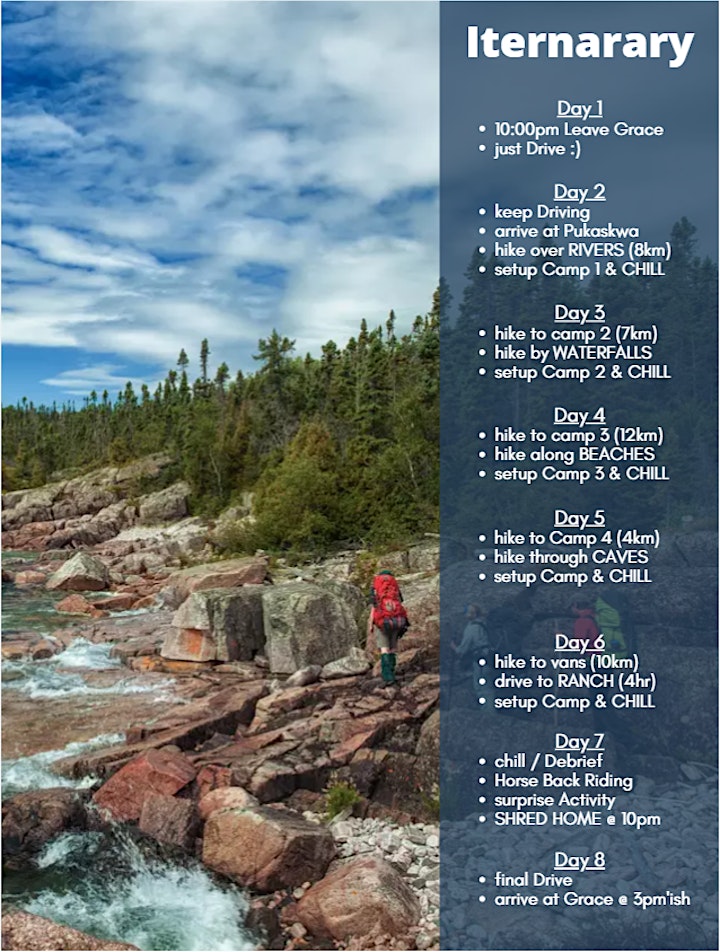 Organizer of Northern Ontario Backpacking Youth Trip | Aug 27 - Sept 3, 2021