NORTHERN SWELL: A Coldwater Surf Photography Exhibit

Friday, 2 October 2015 from 7:00 PM to 11:59 PM (PDT)
Event Details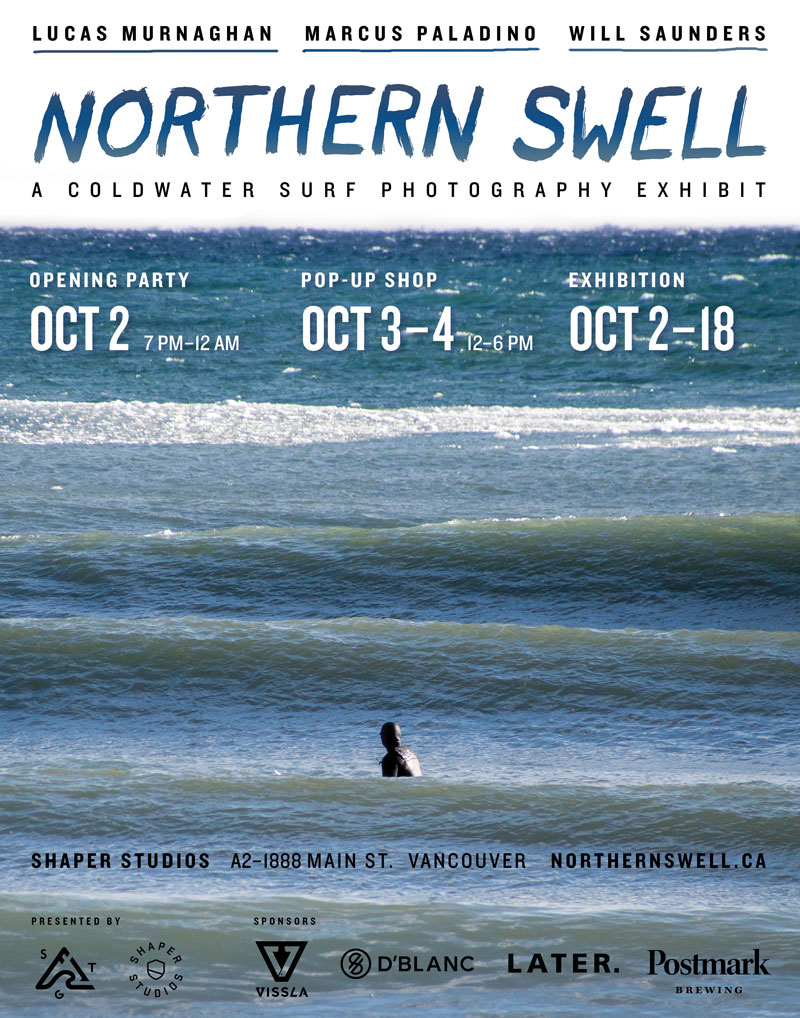 Surf the Greats, in partnership with Shaper Studios, present Northern Swell: A Coldwater Surf Photography Exhibit. The event will take place at Shaper Studios Vancouver from October 2nd to October 18th, 2015. Join us for the opening party on Friday, October 2nd from 7 to 12PM. If you can't make to the opening or want to experience the exhibit in a more chill environment, visit the pop-up shop on Saturday and Sunday of the opening weekend from 12 to 6PM. This event is free, but RSVP is required.
There is something extraordinary about the experience of cold water surfing. While the traditional surf destinations of California or Hawaii offer consistent conditions, the experience is hampered by their associated popularity and crowds. In contrast to these warmer climes, surfers who are willing to take on the harsher elements of cold water, are rewarded with a unique experience. There is a natural selection to those that are willing to brave the elements, their very presence demonstrates that their passion for surf and love for the outdoors is not fettered by tough conditions. This shared appreciation for the adversity and challenge leads to a strengthened stoke between individuals willing to overcome them. Northern Swell is a celebration of this shared philosophy and stoke.
Three photographers have come together to share their distinct perspectives on cold water surfing. Marcus Paladino grew up on Vancouver Island and currently lives and works in the idyllic surf of Tofino, British Columbia. Will Saunders, originally from Colorado, lives in Central Orgeon and his photography has taken him up and down the West Coast from Nicaragua to Alaska. Lucas Murnaghan, born and raised in Ontario, shoots the local fresh waters of the Great Lakes and has captured surf breaks around the world including Barbados, Costa Rica, and New Zealand. A surf competition on Vancouver Island was the nexus for these three artists. From that encounter, grew the idea to join forces in a collaborative exhibition to convey their unique photographic perspectives.
Special thanks to our event sponsors LATER. Magazine, Vissla, D'Blanc and Postmark Brewing.
When & Where

Shaper Studios
1888 Main St
Studio A2
Vancouver, BC V5T 3B7
Canada

Friday, 2 October 2015 from 7:00 PM to 11:59 PM (PDT)
Add to my calendar
Organizer
Surf the Greats is an adventure and lifestyle company and surf shop focused on delivering experiences to connect people to nature on the Great Lakes and beyond. We aspire to establish and foster community through the adventure of surfing the Great Lakes and beyond. We educate, explore, and share through the medium of surf, while reconnecting with the magnificence of nature.