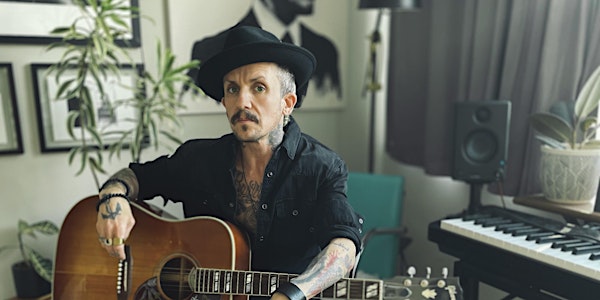 Northern Towns Acoustic Revue
Ages 19+
Featuring Lucas Silveira, Dani Llamas, Guilhem & Laraigné
Northern Towns Acoustic Revue ft. Lucas Silveira, Dani Llamas, Guilhem, and Laraigné — Live at Mills Hardware!
When and where
Location
Mills Hardware 95 King Street East Hamilton, ON L8N1A9 Canada
Performers
Headliners
More Performers
Dani Llamas
Guilhem
Laraigné
About this event
Lucas Silveira is best known as the frontman for the Canadian rock band, The Cliks. Silveira rose to fame in 2006 by becoming the first out transgender man in history to be signed to a major label record deal with Warner Music/Tommy Boy Silver Label. He has toured worldwide with acts such as Cyndi Lauper, The B-52's, Debbie Harry, Tegan and Sara, The Cult and The New York Dolls to name a few. Lucas now divides his time between being a TV show co-host for the new Vice docuseries Shine True airing in Canada on OUT TV and in the US on Fuse TV, writing, songwriting, performing, public speaking and life-coaching. Lucas has been a keynote speaker at events presented by Warner Music Canada, Hydro One, General Electric, Corus Entertainment, Transport Canada, and various colleges ​and universities throughout Canada and the US. Lucas is currently writing a memoir, an illustrated children's book based on trans identities, and just released a new solo album titled The Goddamn Flowers.
Instagram | Facebook | Twitter | Spotify | Apple Music
•
Dani Llamas (Seville, ES) vuelve a zarandear el árbol de las raíces andaluzas con A Fuego, el disco que continúa a "La Verdad" , que fue elegido como uno de los mejores álbumes de 2020. A Fuego consiste en 12 palos flamencos traídos al universo del pop de guitarras eléctricas, el rock misterioso y el folk místico. Después de los adelantos "Ya No Siente Los Gulpes (Seguiriya)" y "La Ley (Sevillanas)", viene "Entre La Maleza (Mariana)", y el disco en su totalidad llegará a todas las plataformas y tiendas el próximo mes de mayo.
Instagram | Facebook | Twitter | Spotify | Apple Music
•
A singer-songwriter whose style is hard to put in a box, Guilhem makes infectious pop rock that reflects his punk roots and eclectic musical influences. From mournful ballads to rollicking feel good anthems, his sound is unified by his deeply personal lyrics and keen ear for catchy melodies. A founding member of Lost Love, Guilhem has been performing solo since 2012; between the two projects he has performed over 500 times. After self-recording two EPs at home, 2017's Songs Songs of Lost Love and 2018's Bad Art, he released his debut full length in March of 2020. Born & Bored, recorded at Mountain City Studio by Adrian Popovich and produced by Hugo Mudie, but released 100% independently, sees Guilhem's coming into his own as a solo artist, experimenting with more complex arrangements without compromising his distinctive sound.
Instagram | Facebook | Twitter | Spotify | Apple Music
•
Growing up listening to such legends as Bruce Springsteen, Johnny Cash and Tom Petty, Laraigné blends these influences and his punk rock roots to create a sound that resonates with everyone. Laraigné has performed all over Europe and North America alongside many talented artists including Nathaniel Rateliff, John Moreland, Chuck Ragan and Dave Haus. His first album Story Tellers, True Believers was released in 2012. Since his debut album, Laraigné continues to tour and perform but has focused more on his second passion as a widely recognized tattoo artist. Laraigné recently wrapped up recording his second studio album The Brightside Of It All. Ten years in the making, this album encompasses a mature sound and personal feel.
Instagram | Facebook | Twitter | Spotify | Apple Music