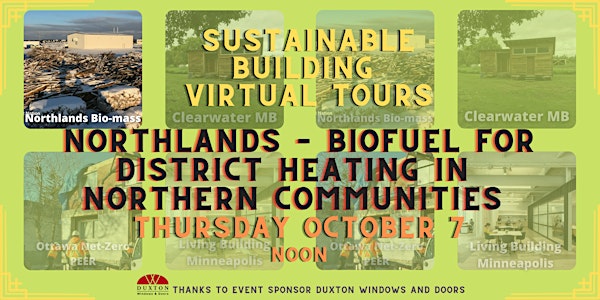 Northlands Tour – Biofuel for District Heating in Northern Communities
Get a behind the scenes look at a district heating system powered by biofuel in Northern Manitoba.
By Sustainable Building Manitoba
When and where
Date and time
Thu, Oct 7, 2021 10:00 AM - 11:00 AM PDT
Refund Policy
Contact the organizer to request a refund.
Eventbrite's fee is nonrefundable.
About this event
Members get 50% off. Free for Student Members
Northlands Dënesųłiné First Nation is a "winter road / diesel dependent" community. All of the heating and electricity in the community depends upon the arrival of truckloads of diesel fuel on the annual winter road.
The biofuel district heating system replaces about 30% of the heating fuel with burnt wood - wood from the surrounding area that has been killed by natural forest fire and harvested with local labour.
Building Name: Biomass / District Heating Plant & Harvesting Operation
Building Location: Northlands Dënesųłiné First Nation
Year Built: 2019
Key Sustainable Feature: Biofuel district heating system using local wood
Building Use: heating plant
Tour the site where harvested wood is piled and stored in the log yard adjacent to the biomass plant building. Go behind the scenes of the biomass building to get up close to the two boilers and pumps that move heated glycol to the school and other buildings in the district heating system.
TOUR GUIDE - Bruce Duggan - Boke Consulting
Bruce Duggan is an Associate Professor of Management at the Buller School of Business at Providence University College & Seminary.
He is the President of Boke Consulting and, in that role, is Project Lead for Aki Energy on ERAAES, an integrated soil remediation and alternative energy project for Northlands Dënesųłiné First Nation. He also helps lead the Waste & Derelict Scrap Metal Collection initiative for the Keewatin Tribal Council, Northlands Dënesųłiné First Nation, Barren Lands First Nation, and Sayisi Dene First Nation. He has also done studies on the feasibility of using biomass to heat community buildings in three other Manitoba First Nations. Bruce also a member of the Board of Directors of the Manitoba Environmental Industries Association and a Steering Committee member of 50by30.
Members get 50% off. Free for Student Members
Once again this year the sustainable building tour will be virtual. Happily, this gives us the opportunity to tour buildings outside Winnipeg, Manitoba and even Canada every Thursday in October.
Get your ticket for all 4 tours for a discount - 4 for the price of 2
Since members get 50% off you get 4 for the price of 1.
Other tours:
OCTOBER 14th - 12 NOON
Clearwater Manitoba - Reclaiming Materials and Community with Robert Guilford - Harvest Moon Society & Lancelot Coar - University of Manitoba
Building Name: Clearwater Cabins and more
Building Location: Clearwater, Manitoba
Year Built: 2014
Key Sustainable Feature: Recycled Materials, Community participation
Building Use: Visitor accommodations, restaurant, multipurpose
OCTOBER 21st - 12 NOON
Ottawa Community Housing - Deep Retrofit Process with Dan Dicaire – OCH and Mark Carver - NRCan
Building Name: Presland Net-Zero PEER
Building Location: Ottawa, Ontario
Year Built: 1960
Key Sustainable Feature: Net Zero Energy and Net-Zero GHG
Building Use: Residential
OCTOBER 28th - 12 NOON
MSR Design Studio Tour - Living Building Challenge & Building Materials with Traci Lesneski, Rhys MacPherson & Simona Fischer - MSR Design
Building Name: 510 Marquette-MSR Design Studio
Building Location: Minneapolis, Minnesota
Year Built: 2019
Key Sustainable Feature: LBC Petal Certification: Materials, Beauty and Equity
Building Use: Workplace
Get your ticket for all 4 tours for a discount - 4 for the price of 2members still get 50% off.
Memberships get 50% off and free for students.
Thanks to event sponsor Duxton Windows for helping to make these tours happen.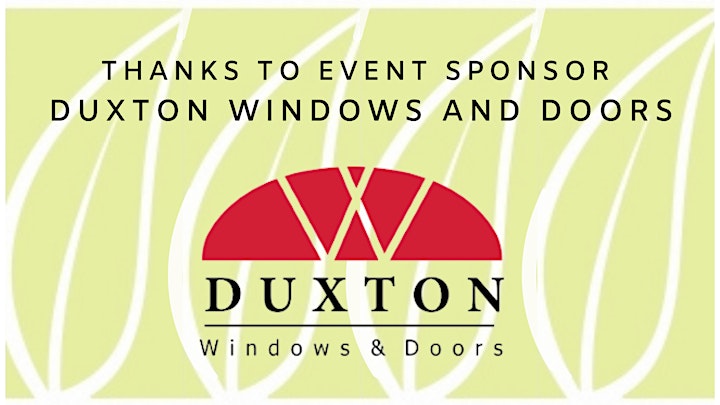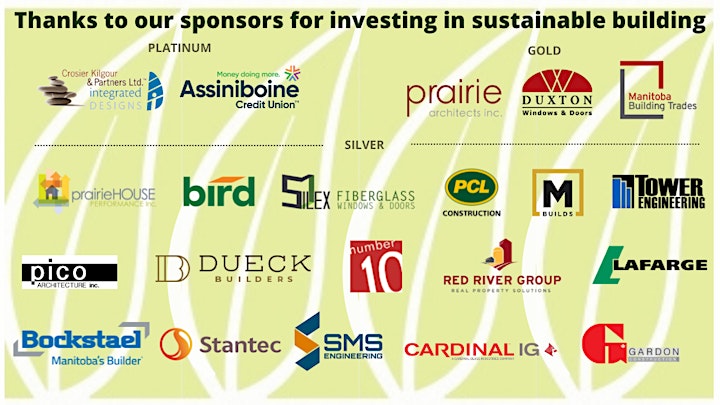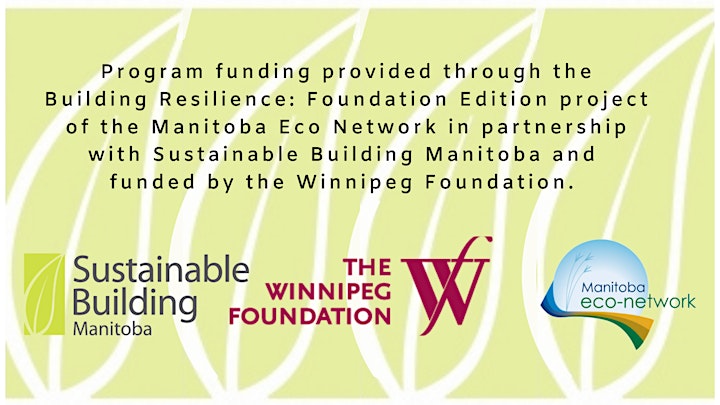 About the organizer
Sustainable Built Environment in Manitoba...