MEET ONLINE WITH HIRING COMPANIES FROM NORTHWEST TERRITORIES & YUKON
About this event
LIST OF EXHIBITORS - SEPTEMBER 9th, 2021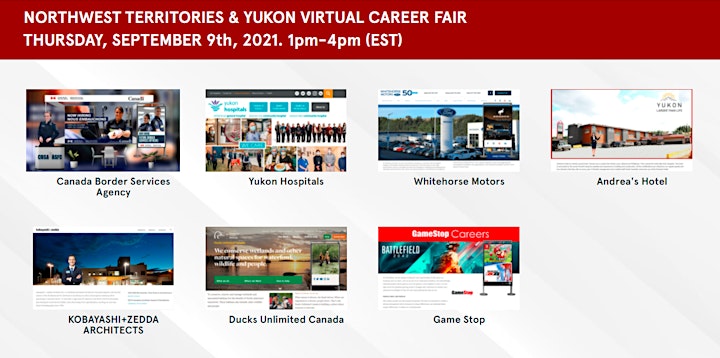 LOOKING FOR WORK? CAREER CHANGE?
Employers are hiring Candidates from Canada only.
The North West Territories (Yellowknife, etc) Virtual Job Fair connects candidates and industries across the province of NORTHWEST TERRITORIES & YUKON (Fort Simpson, Yellowknife, Inuvik, Hay River, Fort Smith, White Horse, etc.)
WHEN: Tuesday, August 9th, 2022 | TIME: 11 am - 2 pm (MST)
ONLINE EVENT: CLICK HERE
UPCOMING DATES: April 18th 2023 and August 29th, 2023.
LIST OF EXHIBITORS: Available 24 Hours before Job Fair
Apply to Job Postings Now: CLICK HERE
FREE ADMISSION FOR JOB SEEKERS
EMPLOYER REGISTRATION CLICK HERE
EMPLOYER SOLICITATION IS NOT ALLOWED AT THE JOB FAIR
For additional information please visit our website www.jobscanadafair.com
VIEW THE PAST JOB FAIRS