(NOT-SO) TERRIBLE TWOS is a new in-house series at The Revue exploring overlooked sequels to hit films that deserve the big-screen treatment
About this event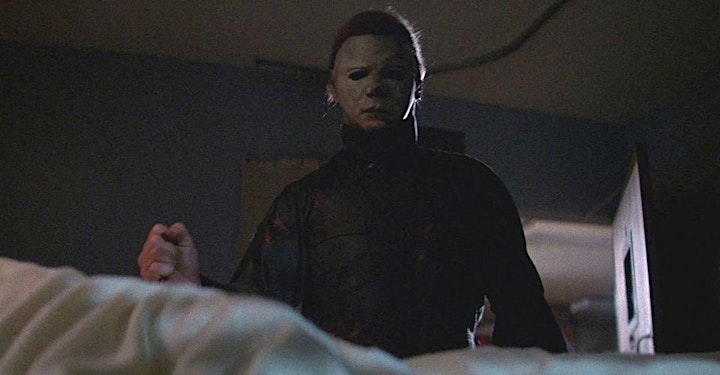 Before going to see HALLOWEEN KILLS, we implore you to watch the original canon sequel to the horror classic — HALLOWEEN II (1981).
The HALLOWEEN franchise has been retconned so much, (you would think a multiverse crossover film would be in the works by now) and the reason why that is mainly lies with the sibling twist John Carpenter and Debra Hill drunkenly wrote into the script — that would further complicate the series moving forward, albeit unknowingly (at the time) kick starting the longest running mainstream horror franchise.
So this Halloween season, come to The Revue and be horrified by The Shape, Ben Tramer's grisly demise and Jamie Lee Curtis' god awful wig and watch HALLOWEEN II the way it should be seen — on the big screen! - SERENA WHITNEY
Please note that Ontario Step 3 Public Health Rules are in effect and masks will be required to be worn in the cinema and only are to be taken off when eating and drinking in the cinema.
As part of the provincial government's vaccine certificate program, which was announced in September, everyone will be required to show that they received both doses of an approved COVID-19 vaccine at least 14 days earlier in order to enter the cinema for this event.
Everyone must bring either their paper vaccine receipt or PDF vaccine receipt available online, along with photo ID to prove that they have been fully immunized.
*To pick your own reserved seats, please make sure to click on the YELLOW MAP before selecting tickets!
Regular admission applies. For INDIVIDUAL MEMBERSHIPS ($350) and FAMILY MEMBERSHIPS, please email us at info@revuecinema.ca to get a ticket!
About the Film
HALLOWEEN II
USA ,1981, 92 mins, R
Directed by Rick Rosenthal
Starring Jamie Lee Curtis, Donald Pleasance
Organizer of (Not-So) Terrible Twos: HALLOWEEN II (1981)
The recently renovated Revue Cinema is Toronto's premier not-for-profit community cinema. We offer great second-run Hollywood fare, insightful programming like our Silent Revue series — where classics from the silent era are accompanied on live piano — Food in Film, Designing the Movies, annual galas, retrospectives & numerous other community offerings. The Revue opened in 1912, making it the oldest operating cinema in Toronto. Support us by becoming a member & enjoy great perks throughout the entire year!