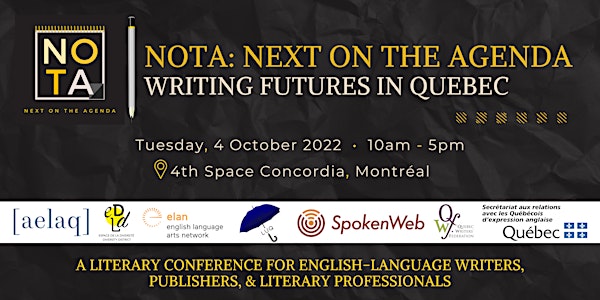 NOTA: Next on the Agenda - Writing Futures in Quebec
A conference for English-language writers, publishers, event organizers, and literary professionals.
When and where
Location
4th Space, Concordia University Concordia University 1400 Maisonneuve Blvd W Montreal, QC H3G1M8 Canada
About this event
NOTA is a conference for English-language writers, publishers, event organizers, and literary professionals to discuss the changing contexts for literature and to explore how writing careers are developed, supported, and sustained in Quebec in 2022.
Registration
Please register in advance, whether for in-person or online attendance via Zoom.
In-person attendance is limited; we expect the seats to fill up very fast. You can register for the morning or afternoon session, or for both sessions. Those who register for the in-person morning session will receive an email later inviting them to select one of the two in-person focus groups.
Once the in-person registration has been filled, a wait list will open in case of cancellations.
Online attendees will be able to participate in Q&A sessions after panels via the chat function and will be invited to attend one of the two online focus groups during the QWF morning session.
Registration, whether in-person or on line, is free of charge. Please click on the "DETAILS" button to register.
NOTA Program (10am – 5pm)
• 9.30am: arrival and coffee
• 10.00am – 10.15am: Opening remarks
• 10.15am – 11.30am: Long Literary COVID: How has the pandemic changed our literary practices and communities? Speakers: SpokenWeb: Jason Camlot, Tomasz Neugebauer, Francisco Berizzbeitia, Lori Schubert (QWF); The Violet Hour Reading Series & Book Club: Chris DiRaddo; Metatron Press: Ashley Opheim.
• 11.30am – 12.45pm: Quebec Writers' Federation - Have Your Say!
◦ QWF Focus Group #1(in person): Building a Career as a Writer (getting published, building a reputation, using an agent, etc.) Facilitator: Tahieròn:iohte Dan David (Kanienkeha:ka)
◦ QWF Focus Group #2 (in person): Connecting to the French Literary Community (getting books translated, collaborating, etc.) Facilitator: Julie Barlow
◦ QWF Focus Group #3 (online): Making a Living as a Writer (freelancing, mentoring, finding and applying for grants, understanding copyright, etc.) Facilitator: stephanie roberts
◦ QWF Focus Group #4 (online): Support Services for Writers (mental health, disabled, queer & racialized writers' issues, independent authors, etc.) Facilitator: Christie Huff
• 12.45pm – 1.30pm: Lunch (suggestions for venues provided for those onsite)
• 1.30pm – 1.45pm: Special Presentation, TBC
• 1.45pm – 2.45pm: Making the Writing Life Sustainable. Moderated by Rachel McCrum. Speakers: Klara du Plessis, Erín Moure, and tbc.
• 2.45 – 3.00pm: Coffee break
• 3.00pm – 4.15pm: Challenging the Field: Black Publishing and Writing in Canada. Moderated by Firoze Manji. Speakers: H. Nigel Thomas, Kwame Scott Fraser, Dorothy Williams, and Yara El-Ghadban.
• 4.15pm – 4.30pm: Presentation by Espace de la Diversité//Diversity District
• 4.30pm – 5.00pm: Closing remarks
Further Information:
For more information about the event, please reach out to us at notaconferenceqc@gmail.com
Note about pandemic protocols: we are aware of pandemic concerns. Please note that masks are optional for the onsite event and that we will not be asking for vaccine passports. If you have concerns, please note that online attendance is an option. We would ask that you do not attend if you are feeling unwell, out of respect for others in attendance.
The NOTA organisers acknowledge that this conference takes place on unceded Indigenous lands. The Kanien'keha:ka Nation is recognized as the custodians of these lands and waters. Tiohtia:ke/Montreal is known as a gathering place for many First Nations, and home today to a diverse population of Indigenous and other peoples. We respect and are grateful to be able to gather on these lands.
The 4th Space is a wheelchair-accessible venue. Accessible toilets are nearby. If you have any particular mobility needs, please contact us at notaconferenceqc@gmail.com, and we will work to accommodate them.
Closed captioning for Zoom sessions may be provided upon request.