Notey Presents: Rise Happy Hour at Bungalow

Friday, 31 July 2015 from 6:00 PM to 9:00 PM (HKT)
Event Details
UPDATE:

Super overwhelmed and excited for the gathering tomorrow night!  The Event is SOLD OUT and we have over 250+ on the Eventbrite waitlist! Given capacity of the venue, we'll have to implement astrict guest list policy to ensure those who have confirmed tickets can attend. (Make sure you've received an Eventbrite confirmation email!)
Again for those who have accepted on the Facebook event page, this list will not be used for the guest list unfortunately.
See you soon. It's going to be awesome!
*For those who have RSVP'd 'yes' on Eventbrite and can't make it, please kindly release your tickets to open up the spot! : )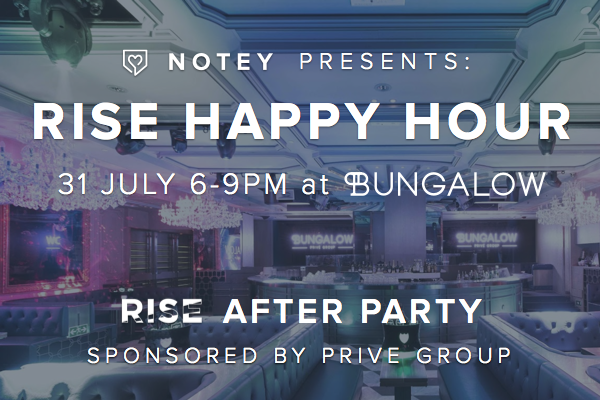 We all know one of the most exciting parts of the RISE conference is the after-parties! Join us at Bungalow - one of Hong Kong's most happening venues - and let loose with founders, VCs, tech influencers, bloggers, social media peeps - you name it! Let us put a drink in your hand (first one's on the house)!
 
What? A lighthearted Happy Hour gathering to bring together bloggers, social media managers, brands with the global tech community.
Where? Bungalow, G/F The Centrium, 60 Wyndham Street, Central
When? Friday 31st July, 6-9pm
Happy Hour Special: First Drink on the House (Courtesy of Prive Group) | Namecard Required. Other drinks are 30% off.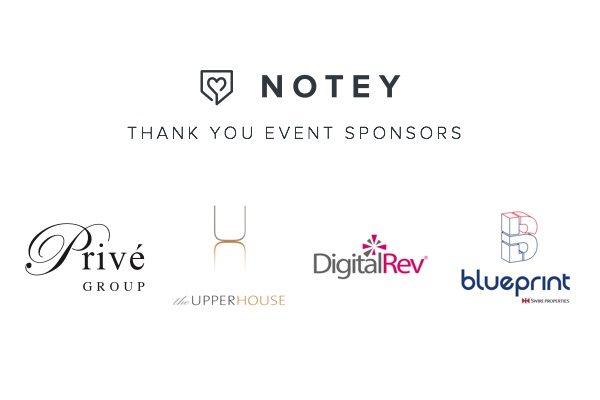 More about the Event Partners:
RISE is Web Summit's first event in Asia. With over 5,000 attendees, (60% of whom are from overseas), RISE is a new tech conference that will give these leaders of enterprise a place to congregate and demonstrate how their companies are changing the way we live.
Notey is an exciting internet and social media startup with a website and app that features top independent publishers and bloggers on over 500,000 topics. Notey has been featured on Techcrunch and Product Hunt, and was recently named by Business Insider as one of the "15 Fastest Growing Startups in the World Still Under the Radar."
DigitalRev is a social network, TV show and online store for photography lovers. DigitalRev has generously sponsored a professional photographer for this event.
The Upper House is a luxury hotel located in Admiralty, designed by reowned Architect Andre Fu. The Upper House has generously sponsored Dinner for Two at Café Gray, a 21st Century Grand Café located on Level 49 of the hotel, as a raffles prize for the event. Make a donation to Nepal at the event for a chance to win this awesome prize! 
Prive Group has generously sponsored the venue and drinks for this event. Since the Nepal earthquake in April, Prive Group has been raising funds to help restore the country. It'd be awesome if you could return this generosity by making a donation (however big or small!) on the night. Donations will go to Red Cross' "Nepal Earthquake 2015" operation, and also UNICEF HK's Nepal Earthquake response. 
For those who cannot join us, please donate directly to Hong Kong Red Cross at: http://www.redcross.org.hk/en/latestnews_events/latest_news_detail.html?id=2253
Or UNICEF HK at: http://www.unicef.org.hk/unicefs-work/emergency-relief/emergency-news/donation-appeals/nepal-earthquake/20150427-PressRelease.
When & Where

Bungalow
Wyndham Street

Hong Kong SAR China

Friday, 31 July 2015 from 6:00 PM to 9:00 PM (HKT)
Add to my calendar
Organizer
Team Notey is bringing together Bloggers, Digital Marketers, Brands and the Global Tech Community!