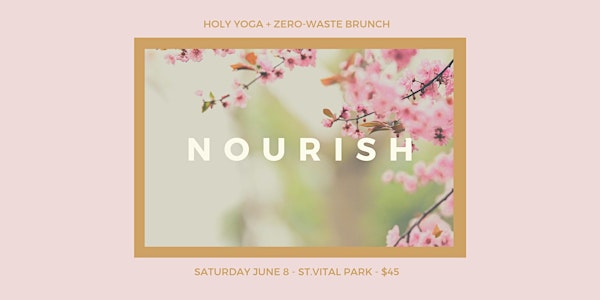 NOURISH - Holy Yoga + Zero Waste Brunch
When and where
Location
Kinship Studios 310-70 Albert Street Winnipeg, MB R2M 5C4 Canada
Description
You're invited to NOURISH: A Holy Yoga + Zero-Waste Brunch taking place on Saturday, June 8th at St.Vital Park from 9am-11am.
NOURISH seeks to nourish your mind, body and spirit through an outdoor all-levels holy yoga class followed by a vegan, gluten-free zero-waste brunch. Each portion of the event is intentionally curated with the theme NOURISH to nurture a deeper connection to self, nature, community and your faith.
Colossians 2:7
"Let your roots grow down deeply in Him, and let Him build you up on a firm foundation. Be strong in the faith, just as you were taught and always spill over with thankfulness"
As we grow in our faith, we realize more and more that as we overflow with thankfulness, we naturally gravitate towards intentionally being good stewards of the life we've been given. Becoming a good steward involves taking responsibility and caring for yourself, your relationships, the Earth and trying to become a force of positive change in every place you find yourself. We may not do this perfectly, we may be figuring it out as we go, but we know with a firm foundation of Truth, we can consciously NOURISH ourselves, our community, and the place we live.
---
About the Yoga:
With our scripture as our focus, we will flow to worship music and take opportunities to step off of our mats and feel our feet firmly planted on the ground. The all-levels yoga class will begin with a focus on the nourishment of breath work, moving into a slow flow which will allow you to explore the postures with a mindset of finding nourishment for your body as we move. At the end of class, you will be adorned with essential oils.

About the Brunch:
A menu hand-selected by Kayla of her favourite foods, the vegan, gluten-free brunch will be nourishing and delicious. The entire brunch is zero-waste and will be enjoyed outdoors on vintage tea-sets as you connect with your new community. Kayla will share from her story and passion for nourishing mind, body and spirit with the support of food and striving for zero-waste living, especially in the kitchen.

Menu includes:
- Raspberry Chia Parfaits with Chia Seeds courtesy of Sunny Day Products
- Avocado, Cucumber and Sprouted Micro Greens courtesy of Fresh Forage served on Gluten-Free, Vegan Sourdough courtesy of Cocoabeans Bakery
- Vegan Charcuterie Board with cheese from Roughage Eatery
- Fresh fruit sponsored by St-Leon Gardens
- Delicious iced teas sponsored by Thirst Tea & Coffee
At a thank-you for spending the morning with us, guests will also receive a special gift for attending!
Gifts are sponsored by:
- Brows by G
- Portia-Ella
- Prana Vida
- River Valley Farms
- Creekside Creative
- Academy Florist
- St-Leon Gardens
- Acorn Cafe
- Generation Green
---
What to Bring:
Please wear clothing you feel comfortable moving in and bring a filled water bottle, your yoga mat and any props you enjoy using.
A portion of ticket sales will be donated to The Refuge Women's Wellness Group - supporting women in the Elmwood area experience healing from trauma and violence and develop greater self-awareness and positive coping skills
Location:
You will receive an email closer to the date with the exact location at St.Vital park, including a helpful map!
About Kayla:
Kayla Leskiw is passionate about using food to foster healing and wellness. She is currently becoming a Certified Nutrition Consultant in Pregnancy and Postpartum. Her journey with food as medicine fuels her creativity in the kitchen and she loves pursuing a faith-based life focused on serving others on their unique journey of infertility, pregnancy and motherhood.

About Aelea:
Aelea is a R-HTY, life coach and founder of Wander to Wonder whose passion is helping others live their most vibrant, authentic and God-focused life. Curating intentional events allows her to share her spark for Jesus, Yoga and self-actualization with others.