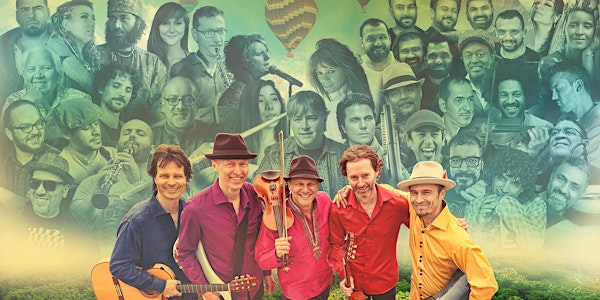 Nov 27 - Sultans of String ZOOM Concert #3 - Refuge Edition
Feat. Ifrah Mansour, Robi Botos, Tamar Ilana, Donné Roberts, Amir Amiri, Dr. Duke Redbird, Ahmed Moneka, Selcuk Suna, Béla Fleck!
Refund Policy
Contact the organizer to request a refund.
Eventbrite's fee is nonrefundable.
About this event
Sultans of String ZOOM Concert #3 - Refuge Edition
Livestream Celebration of the Refuge CD/Project
Friday November 27, 2020 at 8:00 PM
Hello friends, we are super excited to share with you an invitation to our third Sultans of String Interactive ZOOM concert.
This is our Refuge CD EDITION, a multimedia Livestream as we celebrate our amazing collaborators, with live performances, guest appearances, spoken word, conversation and video exclusives by Sultans of String, Ifrah Mansour, Robi Botos, Tamar Ilana, Donné Roberts, Amir Amiri, Dr. Duke Redbird, Ahmed Moneka, Selcuk Suna, Béla Fleck, and more!
This is over ZOOM, which is awesome because we will be able to see and hear you, and you can see and hear us, and you can all see each other as well! It is a real show!
So pour yourself a quarantini, and get ready to enjoy the music!
Link becomes live at 7:30 pm to get settled and chat with our friends. And make sure you have speakers plugged in if you have them!
We have kept the ticket price very low as we know that a lot of our friends are out of work. If that is still a barrier for you then just shoot me an email and I will provide you a comp, no questions asked, while tix remain.
Show will last about an hour, including a talk back portion, so bring your burning questions, as we will be opening up the floor for anyone who has always wanted to ask any of the artists about their inspiration, or music, or whatever strikes your fancy.
$1 from each ticket sold is being donated to the UN Refugee Agency. See details below!
Thanks and look forward to seeing you all soon!
Internationally awarded and honoured Canadian band Sultans of String collaborates with over 30 musicians on Refuge, "a fantastic, moving, dreamlike, epic, timely album." - Ken Micallef (Jazz Times, Stereophile, Downbeat).
Addressing the struggles of life on Mother Earth has always inspired Sultans of String. On this visionary seventh album, Refuge, they bring their unique brand of musical synergy and collaboration to bear on 13 songs that speak to the challenges facing the world's displaced peoples--their stories, their songs, their persistence and their humanity.
Joined by an international cast, some of whom are recent immigrants to North America, the celebrated quintet immerses themselves in the plight of the international refugee, and the humanitarian response that should greet everyone in search of a home.
"This project is centred around the positive contributions of refugees and new immigrants to U.S.A. and Canada" says bandleader Chris McKhool (ancestral name Makhoul), whose Lebanese grandfather stowed away on a ship bound for North America a century ago.
"We're collaborating with special guests on the album who are newcomers to this land, Indigenous artists, as well as global talents who have been ambassadors for peace. We wish to celebrate the successes of those who make the journey here and bring their extraordinary talents with them. We hope the conversations we can have as musicians will provide a model for peace that will inspire our politicians and citizens."
Sultans of String are also raising awareness and funds for the UN Refugee Agency. They are close to their goal of raising $10,000 before the end of the year to help provide medical supplies and attention, clean water, and shelter to some of the almost 80 million displaced peoples around the globe. McKhool explains the reason behind backing the fund: "COVID-19 has made it even more challenging for the world's displaced peoples, those without a home. The stateless, all those that are forced to flee violence or persecution. Millions do not have a place in which they can isolate themselves and their families from this global pandemic, and find Refuge." Please visit http://fundraise.unhcr.ca/sultansofstring
FEEDBACK FROM OUR FIRST ZOOM CONCERT:
"Music sounded amazing and the video production was super slick."
"This was the best Zoom - online show I have seen. The setting and production values were excellent. It was obvious that time was taken to ensure us of a completely professional concert. Loved the music - hope there are more to come."
"The show was amazing. Sound was top-notch, and I would know since I've been subjected to online classes for a while now. Overall great experience"
"It was great to have live music come right to our homes. The band played amazing music! The sound quality was wonderful. Hope to hear more live music from Sultans of String, soon."
BUY/LISTEN NOW: http://smarturl.it/RefugeAlbum
REFUGE EPK: https://spark.adobe.com/page/nTMPzB2pbSPyP/
FACEBOOK: https://www.facebook.com/sultansofstring
SPOTIFY https://tinyurl.com/y5kxh96c
TWITTER: http://twitter.com/sultansofstring
INSTAGRAM: https://www.instagram.com/sultansofstring/
TICKETS: https://refuge2020.eventbrite.ca