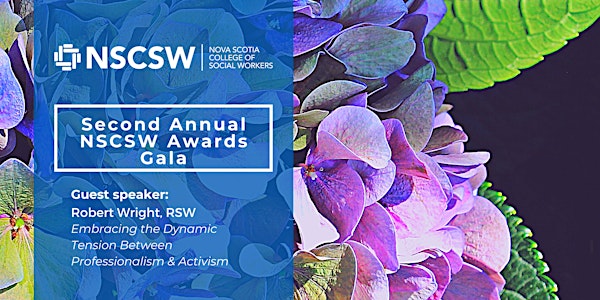 Nova Scotia College of Social Workers Annual Awards Gala
Please join the NSCSW and featured guest speaker Robert Wright to celebrate our award recipients and volunteers from 2022.
About this event
Please plan to join us as we celebrate our Second Annual Awards Gala this November. We will gather virtually to recognize our award winning social workers, as well as our amazing volunteers, committee chairs, and all of the dedicated social workers in Nova Scotia who contribute to our profession and enable us to advance our mission.
Our special guest speaker for the evening will be Robert Wright, RSW. His topic will be "Embracing the Dynamic Tension Between Professionalism and Activism."
The virtual gala is free to attend and open to the public; anyone may attend. Please join us as we come together to honour, celebrate, learn and be inspired!
Award honorees
Canadian Association of Social Workers Distinguished Service Award: Jim Morton
Ron Stratford Memorial Award: Ryan Gould
David William Connors Memorial Award: Alexandra Earle-Lambert, RSW
Social Justice Ally Award: Tristan Kowal
Professional development tracking
For members of the Nova Scotia College of Social Workers, Robert Wright's remarks are eligible as a 30 minute formal activity, and the remainder of the event may be an additional hour of informal activity as defined by NSCSW's guidelines for annual professional development. Members can use the registration confirmation email or PDF ticket as a verification document.
Participants may also choose to follow up after the session to participate in advocacy related to the event's content; such advocacy activities are eligible for the newly mandated requirements for all social workers in Nova Scotia to complete annual training or activities related to social justice.
Please visit nscsw.org/pd for more information about the updated professional development requirements for Nova Scotian social workers.