Description
Claudine Gévry is a visual artist based in Vancouver, Canada. She spent most of her life immersed in Montréal's rich artistic and cultural diversity. It was there that she studied Fine Arts and Graphic Design in institutions known for their eclectic and bohemian artistic tendencies.
Juggling between painting, sculpture and illustration, her most recent endeavor brought her to create illuminated sculptures. She was recently commissioned to make a sculptural light installation at the UBC Pharmaceutical Sciences Building. Hundreds of upcycled medical bottles & LEDs were assembled into a permanent cloud shaped hanging sculpture.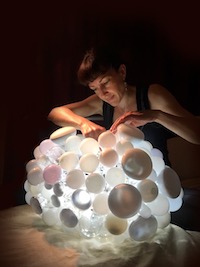 Claudine will share her journey through her different art practices. You will be invited to create your own suspended sculpture with upcycled material provided by the artist.
Date: Sunday, November 24th 2019
Place: David Eby MLA's Community Office, 2909 West Broadway, Vancouver, V6K 2G6
Time: 6:30-7 pm Potluck finger food; 7-8 pm Presenters; 8-8:30 pm Socialize and network.
Bring: Dessert or finger food for sharing. There will be a networking table for flyers and cards about upcoming performances and exhibitions.
We provide reusable cups, napkins and plates.
You can follow Creative Neighbours Salon on:
www.facebook.com/creativeneighbourssalon
Twitter @KitsilanoSalon
Instagram @Creativekitsilano
Questions? Contact creativeneighbourssalon@gmail.com
RSVP: http://creative-neighbours.eventbrite.ca
And see details of this and other upcoming salons at creativeneighbourssalon.wordpress.com
Thanks for a Neighbourhood Small Grant to: the Vancouver Foundation administered by Kitsilano Neighbourhood House.