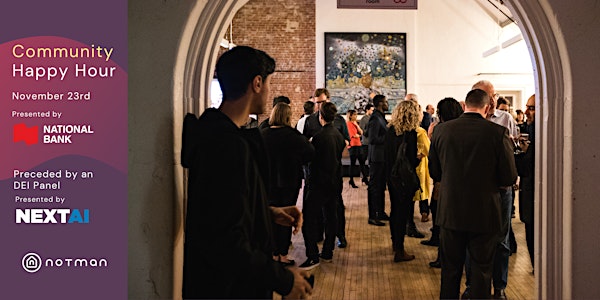 November Community 5@7 + Next AI EDI Panel
Join us for our community Happy Hour presented by Banque Nationale du Canada + EDI Panel with Next AI
When and where
Location
Notman House 51 Sherbrooke St O. Montreal, QC H2X 1X2 Canada
About this event
**en français plus bas**
Let's catch up at the House for the monthly Notman Community Happy Hour, this month it will be preceded by a panel discussion about diversity, equity and inclusion.
16:00 : Doors open
1 6:30 : EDI Panel presented by Next AI
1 7:15 : Notman happy hour presented by the National Bank of Canada
19:00 : End
***
On se retrouve à la Maison pour le 5à7 mensuel de la communauté Notman, ce mois ci il sera précédé d'un panel sur la diversité, l'équité et l'inclusion.
16:00 : Ouverture des portes
16:30 : Panel EDI présenté par Next AI
17:15 : 5à7 Notman présenté par la Banque Nationale du Canada
19:00 : Fin
EDI Panel
Présenté par Next AI
16:30 - 17:15
Navigating Business, funding & Life During a Recession as a Woman or a BIPOC founder
Talks of a looming recession have been almost everywhere lately. And whether you agree or not that Canada has entered an economic recession, it's important to always be prepared for uncertain economic times.
Instead of allowing panic to take over, we've decided to utilize knowledge, preparation, and community as our weapon of choice to understand in these times of recessions, what are the perspectives for founders in 2023. Our panel will answer questions such as how to raise money during a recession? How to retain employees? What happens to startups in a recession? How does the recession impact founders in their personal lives? And much more.
***
Naviguer dans les affaires, le financement et la vie pendant la récession en tant que femme ou fondateur PANDC
On entend presque partout parler d'une récession imminente ces derniers temps. Que vous soyez d'accord ou non avec l'idée que le Canada est entré en récession économique, il est important de toujours être prêt à faire face à des temps économiques incertains. Au lieu de laisser la panique prendre le dessus, nous avons décidé d'utiliser la connaissance, la préparation et la communauté comme arme de choix pour comprendre, en ces temps de récession, quelles sont les perspectives pour les fondateur.rice.s en 2023. Notre panel répondra à des questions telles que : comment lever des fonds pendant une récession ? Comment retenir les employé.e.s ? Qu'arrive-t-il aux startups en période de récession ? Comment la récession affecte-t-elle les fondateur.rice.s dans leur vie personnelle ? Et bien plus encore.
Panélistes | Panellists
Mona-Lisa Prosper
Director - Black Entrepreneurs |Directrice -Entrepreneur.es noir.es @Futurpreneur Canada
Board Member |Membre du conseil d'administration @CMTL
Roxanne Leduc
Director of the Board of Directors | Directrice du conseil administration @Canadian Women in VC
Director of Operations | Directrice des operations @Panache Ventures
Founder @ Cap Inclusive | Founder @ Cap Inclusive
Phil G. Joseph
Investment Associate | Investisseur associé @Real Ventures
Founder | Fondateur @Rep Matters
More to come…
5@7 Notman
Présenté par la Banque Nationale du Canada
17:15 - 19:00
Join us for our monthly Notman Happy Hour to connect with our community.
Dans le cadre du recrutement de la cohorte Next AI - Montréal 2023, nous allons à la rencontre de la communauté startup et IA de Montréal afin de faciliter la mise en relation entre des entrepreneur.e.s partageants les mêmes idées. Que vous soyez à la recherche d'un.e cofondateur.rice ou que vous souhaitiez poser vos questions sur le programme Next AI - Montréal, cet événement de réseautage est pour vous!
As part of the Next AI - Montreal 2023 recruitment, we are reaching out to the Montreal startup and AI communities to facilitate connections between like-minded entrepreneurs. Whether you are looking for a co-founder or want to ask questions about the program, this networking event is for you!

ACCÈS / ACCESS
The Happy Hour takes place in the Clark room located on the 3rd floor of the Notman House (there is no elevator). To get there, enter the café and follow the signs.
**
Le 5@7 se déroule dans la salle Clark située au 3ème étage de la Maison Notman (il n'y a pas d'ascenseur). Pour y accéder entrez par le café et suivez la signalétique .
Notman House offers a vibrant and accessible environment that fosters collaboration and the transfer of knowledge and know-how between the various players in the Montreal startup community.
More than a technology campus, Notman is a third place, a strong anchor in its local community, which plays the role of a unique business hub, a unifying, prosperous and attractive living environment.
La Maison Notman offre un milieu vibrant et accessible à tous qui favorise la collaboration ainsi que le transfert des connaissances et du savoir-faire entre les différents acteurs de la communauté de startups de Montréal.
Plus qu'un campus technologique, Notman est un tiers lieu, un point d'ancrage fort dans sa collectivité locale, qui joue le rôle de pôle d'affaires unique, de milieu de vie rassembleur, prospère et attractif.
Banque Nationale du Canada
National Bank is proud to be involved in a number of initiatives that embody its commitment to sustainable development, entrepreneurship, the environment and communities. Committed to making a positive impact on people's lives, the Bank integrates environmental, social and governance issues into its business and operational decisions and provides a diverse and inclusive workplace for its employees.
La Banque Nationale est fière d'être impliquée dans plusieurs initiatives qui concrétisent son engagement pour le développement durable, l'entrepreneuriat, l'environnement et les communautés. Engagée à avoir un impact positif dans la vie des gens, la Banque intègre les questions environnementales, sociales et de gouvernance dans ses décisions d'affaires et opérationnelles et offre un milieu de travail diversifié et inclusif à ses employés.
Next AI is a world-class founder and venture development acceleration network for AI-enabled startups. Founders can be part of the ecosystem from anywhere in Canada, following the program remotely or in-person from the Toronto or Montreal hubs.
Taking advantage of a renowned network of AI and business experts, Next AI provides support on both AI product development and market commercialization. Each year, we identify the top early-stage teams developing ambitious AI-powered solutions and we provide them with the mentorship, education and over $1M in deals and perks from our partner vendors to have a global impact.
Have big ideas for an AI-enabled biz? Applications for the Next AI 2023 cohort are now open - learn more & apply www.nextai.com!
Next AI est un écosystème de développement de fondateur.trices et d'accélération de classe mondiale pour les startups utilisant l'intelligence artificielle (IA) au cœur de leur technologie. Fondateurs.trices. peuvent faire partie de l'écosystème depuis n'importe où au Canada, en suivant le programme à distance ou en personne depuis les centres de Toronto ou de Montréal.
En tirant parti d'un réseau renommé d'experts en IA et en affaires, Next AI fournit un soutien à la fois pour le développement de produits d'IA et la commercialisation sur le marché. Chaque année, nous identifions les meilleures équipes en début de carrière qui développent des solutions ambitieuses basées sur l'IA et nous leur fournissons le mentorat, l'éducation et plus d'un million de dollars en avantages de nos fournisseurs partenaires pour avoir un impact mondial.
Vous avez de grandes idées pour une startup utilisant l'IA? Les candidatures pour la cohorte Next AI 2023 sont ouvertes - plus d'info. et appliquez www.nextai.com