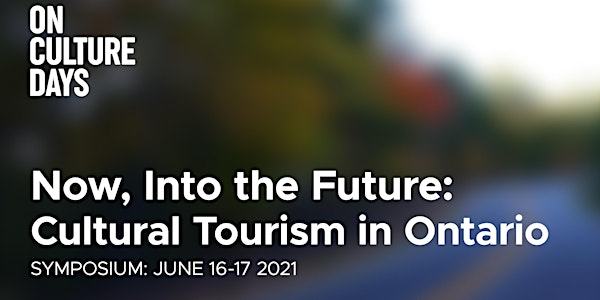 Now, into the Future: Cultural Tourism in Ontario
How do the arts, culture and tourism sectors collaborate as we look to the future in Ontario? Join us for this free 2-day symposium!
About this event
How can we collaborate to highlight Ontario as the arts and culture destination we know it is? As the arts, culture and tourism sectors look forward to reopening, this free symposium presents conversations, keynote presentations, and panel discussions featuring leaders in cultural tourism in Ontario and from outside Canada.
Hear from key people at festivals, cultural destinations, municipalities, and tourism organizations, as well as cultural placemakers, international thought leaders, and research experts, who bring insights and expertise to the current realities and future possibilities for cultural tourism. This free symposium will provide thoughtful discussion, examples of how cultural tourism has changed amid the pandemic, inspiration and actionable information as we prepare for what cultural tourism experiences will be like as people resume local, regional, national, and international travel. Whether you are new to the conversation or already well-versed in cultural tourism strategies, Now, into the Future: Cultural Tourism in Ontario will provide inspiration, action and excitement for what's next.
Wednesday, June 16 from 2pm - 5pm EST
Thursday, June 17 from 9:30am - 12:30pm EST
Full speaker list and event schedule available on our site!
We acknowledge and thank the Province of Ontario and the Canada Council for the Arts for their support of this project.