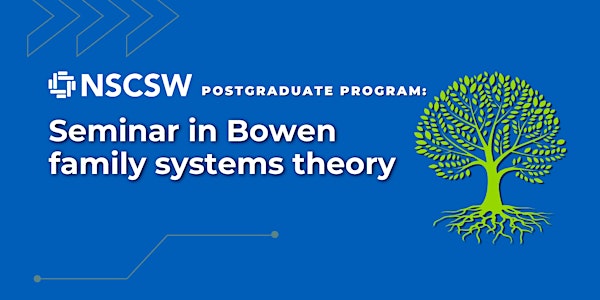 NSCSW postgraduate seminar: Bowen family systems theory
An intensive course about Bowen family systems theory, for members of the Nova Scotia College of Social Workers
About this event
"If I can discover and correct the part I play, all others will automatically correct their parts."
Murray Bowen
In fall 2022 the Nova Scotia College of Social Workers (NSCSW) will be offering a unique opportunity for our members' professional development: an 8-week seminar in Bowen family systems theory. Beginning October 18th this program will meet every Tuesday from 6-8:30pm until December 6th.
A free taster session at noon on September 14 will provide an introductory overview of Bowen theory, and offer members a chance to ask questions about the fall course; this is a separate event and should be registered for separately by those who plan to attend: eventbrite.ca/e/395300272757
Interested in a new way of thinking about the individual and the group? We hope you'll join us this fall!
Background
Approximately 60 years ago Murray Bowen, M.D., a pioneer in family research, created a new paradigm that has significantly influenced thinking about human behaviour. Since that time, ongoing investigation, research and communication with the natural sciences have continued throughout the world, offering a systemic, contextual alternative the cause-and-effect models now dominant in health care, organization and leadership development.
Bowen family systems theory understands the family to be an organism, an emotional system that has an enormous influence on the behaviour of each individual family member. The theory also proposes that an individual's capacity to observe the emotional system and its patterns, and to clearly define their place within it, will effect their own functioning within the family and also affect the behaviour of other family members.
It is now widely recognized that how well any organization functions – whether it be a workplace, a family or a community – depends on the degree to which the employee/member/citizen can clearly define themselves in relation to others within the organization.
Bowen theory's recognition of our interconnectedness and his description of the emotional system has important implications, not only for families and their members, but also for all organizations, and for human health.
Program content
The facilitators will guide study and exploration of Bowen theory in a secure, small group setting. Eight interactive sessions will focus on an understanding of the theoretical framework of Bowen family systems theory while additionally exploring its application to the family, the workplace and the community.
In addition to rich and thought-provoking discussions, participants can expect to complete assigned readings and to make presentations to a small group of colleagues. Participants will be encouraged, between sessions, to define themselves more clearly in their work and family-of-origin systems. It is this effort that will result in the deepest level of learning, integration and change.
Core concepts of Bowen family systems theory
Leadership
Emotional anxiety
Togetherness and individuation forces
Differentiation of felf
Emotional friangles
Nuclear family emotional process
Sibling position
Family projection process
Emotional cut-off
Societal emotional process
Multigenerational transmission process
Program features
Scheduling: Eight 2.5 hour sessions, held weekly.
Location: Online via Zoom
Enrolment: The program will be limited to a maximum of 12 participants, allowing each participant to lead a discussion of assigned reading and to present a specific systems dilemma during the course of the program. Each participant, in effect, presents twice.
Readings: Reading assignments will be selected from Bowen family systems theory texts and peer reviewed literature. Reading materials are included with registration fee
Professional development credits: This program delivers 20 hours of formal learning, as defined by the Nova Scotia College of Social Workers professional development guidelines.
Facilitators
Anne Pirie
Anne Pirie, MSW, is a registered member of the New Brunswick Association of Social Workers, living in Sackville, NB. Anne has worked in various clinical settings: mental health, hospitals, family services, child protection. Bowen Family Systems Theory informed her understanding of her own family, parenting, practising family therapy and designing intergenerational gatherings. Anne is actively retired; now engaged in a variety of non-profit organizations. Committed to life-long learning, Anne seeks ongoing understanding of her part in significant relationship systems.
Jim Morton
Jim Morton, BA (Acadia), MSW (Dalhousie) is a retired associate member of NSCSW with more than four decades of leadership, clinical and consulting experience in both the public and private sectors. Jim's current interests centre on mental health, family systems theory, politics, and social change. He lives in Kentville, Nova Scotia.
Participant feedback from their programs
"It has been quite literally a life altering experience!."
"This program would be hard to improve."
"Excellent right to the finish."
"A fine example of group work."
"Strong, dynamic and sensitive leadership."
"You've challenged my potential in ways I couldn't imagine"
"This really hits home!"
"Obviously experienced and knowledgeable."
"Helpful, instructive, enriching."
Eligibility
Must be a current member of NSCSW to attend; all active, associate, retired, and student members are welcome. There is no other prerequisite.
The fall seminar registration will be limited to 12 participants, and the registration fee will include the seminar series and resource materials. A taster session on September 14 is free to join.
The facilitators welcome interest in this program from practitioners:
who are engaged in clinical settings such as mental health, addictions, hospitals and private practice;
who have roles within family-owned businesses;
who own or run business ventures;
who provide leadership to work or religious organizations;
who deliver child protection services;
who consult and deliver services in educational settings; and from those
who are interested in enhancing their own capacity to be effective observers of systems processes.
You'll need a device that can use Zoom, and a reasonably reliable internet connection. Participants will also need to provide a mailing address where they wish to receive the course materials.
Categorization
Participating in the entire eight week session provides 20 hours of formal professional development as defined by NSCSW's guidelines for annual professional development . The optional one hour taster session in September is also formal learning. Members can use the registration confirmation email or PDF ticket as verification.
Visit nscsw.org/pd for more information about the updated professional development requirements for Nova Scotian social workers.
Cancellation policy
Eventbrite's processing fees are nonrefundable. Refund requests for the base course fee ($45CAD) will be considered on a case-by-case basis; please note that a full refund may not be possible if course materials have already been mailed to the participant.
Participants may transfer their registration to another NSCSW member at any time before the first seminar session begins.
Questions?
If you have questions, please contact the College's Professional Practice Consultant, N Siritsky, at nsiritsky@nscsw.org.