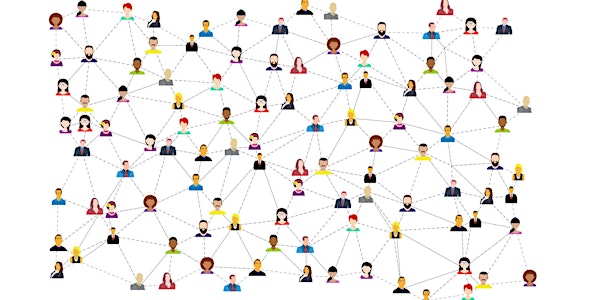 NSERC CWSE - Network of Collaborations - Science for Humanity Series
NSERC Chairs for Women in Science and Engineering Present the Science for Humanity Workshop Series
About this event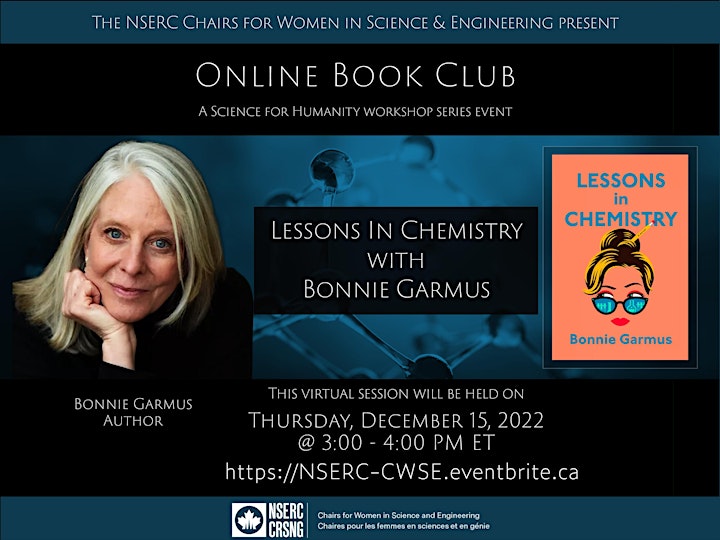 __________________
Science for Humanity Book Club
Lessons In Chemistry with Bonnie Garmus
The Science for Humanity workshop series will conclude with an online book club discussion with the book's New York Times best-selling author
Thursday, December 15, 2022 @ 3-4 PM ET
Join our inclusive workshops led by world-class change makers, as part of our Network of Collaborations series
Each year, we offer inclusive workshops led by world-class change makers, as part of our Network of Collaborations series. We are pleased to announce the next online workshop series: Science for Humanity.
The series will focus on:
- Building connections and collaborations
- Providing practical tools for decision-making and ethical science
- Celebrating the important contributions of science to the world and the humans who make it possible
Our next session is on Responsible Decision Making, Story or Lise Meitner – Movie and Discussion
All sessions will be held virtually on Thursdays. You can register for one or more individual sessions separately. Please see the calendar of events below for the dates and details of our sessions.
Schedule of Workshops, Guest Speakers, and Events
Session 1: Navigating Through Ethical Pitfalls - A Fireside Chat with Timnit Gebru & Lauren Hayward
Thursday, October 6, 2022 @ 3-4 PM ET
Have you ever wondered what ethical choices are made when humans make artificial intelligence? Join us in this fireside chat with Dr. Timnit Gebru to hear firsthand about ethical science and the challenges that may arise.
Session 2: Why Ethics Matter & How to Implement Ethics in your Research by Hattusia
Thursday, October 20, 2022 @ 2-4 PM ET
This workshop will introduce you to the basics of ethical thinking and will help you implement ethics in your working day with a focus on human rights.
Session 3: Responsible Decision Making, Story or Lise Meitner – Movie and Discussion
Thursday, November 3, 2022 @ 5-7 PM ET
This workshop is an online film screening of The Path to Nuclear Fission: The Story of Lise Meitner and Otto Hahn (2006) followed by an online discussion with Rosemarie Reed, the director of the movie and special guest.
Session 5: Humans of Science - Lessons In Chemistry with Bonnie Garmus and Special Guests
Thursday, December 15, 2022 @ 3-4 PM ET
The Science for Humanity workshop series will conclude with an online book club discussion with the book's New York Times best-selling author.