Our Indigenous Day celebration features Don Burnstick and Shina Novalinga! Joignez-vous à nous pour célébrer la Journée des Autochtones!
About this event
Veuillez lire la langue française ci-dessous.
Our Indigenous Day celebration brings us together as Indigenous People to honour who we were, to celebrate who we are, and to give thanks for who we will become. Catch two of NDN country's hottest stars with Don Burnstick and Shina Novalinga!
Shina Novalinga, 22-year-old Inuk creator based in Montreal, college student, and #1 Indigenous TikTok star in the world inspiring youth and bringing her Indigenous culture to the masses. "It's important for me to educate others on my platform because not a lot of people know about our history, or know about the Inuit culture. It has always been brushed off. My goal is to change that and not be afraid to speak about it." Shina has been most recently featured in Vogue, Global News, 24H, CTV News and the BBC.
Don Burnstick is a Cree from the Alexander First Nation located outside of Edmonton, and is the youngest of 15 children, and has established himself as one of Canada's most sought after and best comedians. "I lived on the streets of Edmonton as an alcoholic and drug addict. In 1985, when I sobered up at 21, there were not too many 21 year old males that were alcohol and drug free so I was asked to share my story." Don has now been involved within the healing/personal wellness movement for over 30 years and has utilized humour and performance to provide a holistic approach to healing.
Program
10 am PST start.
Co-Chairs welcome, Elder prayer.
10:15 to 10:45 Shina. 10 minute break
11 am Don Brunswick
12:00 Close and elder prayer.

General public welcome to attend our special gathering of Indigenous voices.
Register for free here on Eventbrite.
For NUICC Coalition reps we invite you to register here with an Eventbrite ticket to access for a Skip The Dishes delivery and NUICC's national office will send you a meal gift card on June 17.
////
Célébration virtuelle de la Journée des Autochtones NUICC
Notre célébration de la Journée des Autochtones nous rassemble en tant que peuples autochtones pour honorer qui nous étions, pour célébrer qui nous sommes et pour remercier ce que nous deviendrons. Attrapez deux des stars les plus hot du pays NDN avec Don Burnstick et Shina Novalinga !
Shina Novalinga, créatrice Inuite de 22 ans basée à Montréal, étudiante au collégial et vedette autochtone de TikTok n ° 1 dans le monde, inspirant les jeunes et faisant connaître sa culture Autochtone aux masses.
Don Burnstick est un cri de la Première Nation Alexander située à l'extérieur d'Edmonton. Il est le plus jeune de 15 enfants et s'est imposé comme l'un des comédiens les plus recherchés et les meilleurs au Canada.
Programme
10 h 00 HNP. Les coprésidents sont les bienvenus, prière des aînés.
10h15 à 10h45 Shina. 10 minutes de pause
11 h Don Brunswick
12h00 Clôture et prière des anciens.
Le grand public est le bienvenu pour assister à notre rassemblement spécial de voix autochtones en regardant notre diffusion simultanée sur notre page Facebook NUICC.
Pour les représentants de la NUICC Coalition, nous vous encourageons à vous inscrire pour accéder à une livraison Skip The Dishes et le bureau national de NUICC vous enverra une carte-cadeau de repas le 17 juin.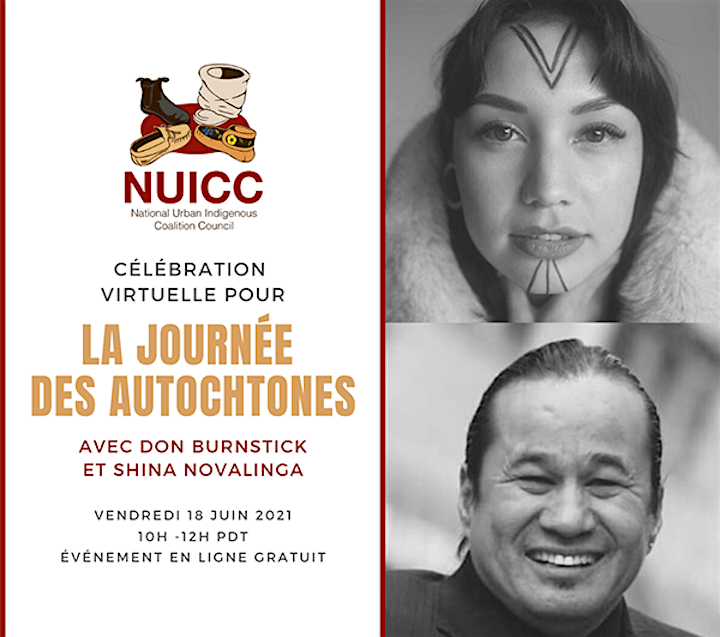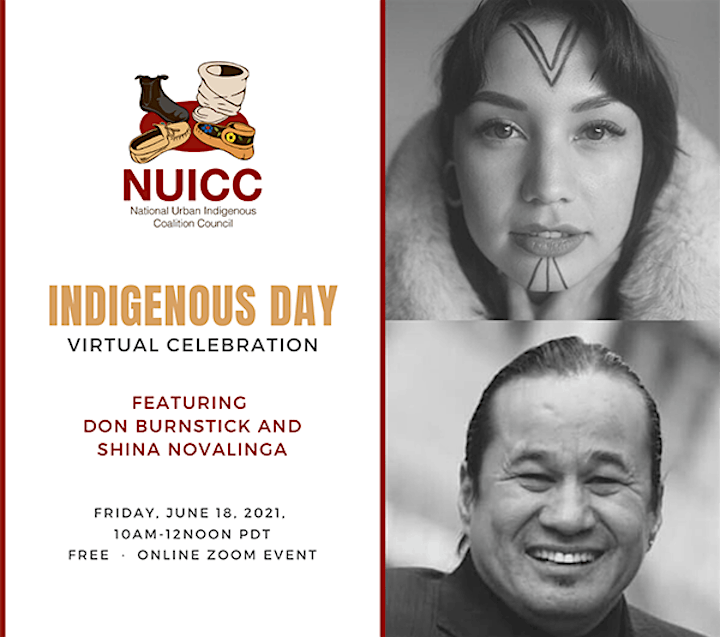 Organizer of NUICC Indigenous Day Virtual Celebration
NUICC is a network of coalitions working to increase the visibility of the Urban Indigenous Population, focusing on creating vital awareness and conversations that Urban Indigenous culture is Indigenous culture, all across Canada. We collaborate to lift up Urban Indigenous Peoples' rights and needs through networking, research, policy development, and collaborating on advocacy.
NUICC est un réseau de coalitions qui s'efforce d'accroître la visibilité de la population Autochtone urbaine, en se concentrant sur la création d'une prise de conscience vitale et de conversations sur le fait que la culture Autochtone urbaine est culture Autochtone, partout au Canada. Nous collaborons pour rehausser les droits et les besoins des Peuples Autochtones urbains grâce au réseautage, à la recherche, à l'élaboration de politiques et à la collaboration sur le plaidoyer.