Nurturing Children and Families / Prendre soin de nos enfants et familles
Sales Have Ended
Ticket sales have ended
Thank you! Conference agenda will be available in October. If you have any questions, please contact nbafrc@frc-crf.com Merci! L'ordre du jour sera disponible en octobre. Si vous avez des questions, n'hésitez pas à nous contacter à nbafrc@frc-crf.com
Sales Have Ended
Ticket sales have ended
Thank you! Conference agenda will be available in October. If you have any questions, please contact nbafrc@frc-crf.com Merci! L'ordre du jour sera disponible en octobre. Si vous avez des questions, n'hésitez pas à nous contacter à nbafrc@frc-crf.com
Description
**ENGLISH DESCRIPTION & VISUALS FOLLOW**

Prendre soin de nos enfants et familles : Une conférence sur le soutien de la santé et du mieux-être par la prévention et l'intervention
Les 12 et 13 octobre 2017 – Salle de bal Beauséjour, Hôtel Wingate, 69, rue du Marché, Dieppe (N.-B.)
1re journée : Le 12 octobre, de 8 h 30 à 16 h 30 « Prendre soin des jeunes enfants et familles »
En compagnie du Dr Gilles Julien, champion national des enfants, des familles et des communautés en santé, nous allons discuter de l'importance de prendre soin des enfants en bas âge et des familles – la valeur ajoutée de la pédiatrie sociale en communauté. La prévention et l'intervention précoce auprès des jeunes enfants contribuent clairement à soutenir le développement de la santé globale. L'apport de la pédiatrie sociale en communauté vise à améliorer la qualité de vie des enfants et à prendre en compte leur intérêt supérieur dans un modèle de consortium (village) en lien étroit avec les familles. Le Dr Elaine Deschênes sera également présente pour partager son expérience médicale au Nouveau-Brunswick.
Veuillez noter que les présentations du 12 octobre se déroulent en français, avec service de traduction. Le dîner et les rafraîchissements sont fournis.
2e journée : Le 13 octobre, de 8 h 30 à 16 h
Formation : « Trousse d'outils pour la santé mentale des mères »
La trousse d'outils est une ressource unique très importante utilisée pour aider les mères avec des défis de santé mentale. La formation est assurée par des professionnelles en programmation familiale. Il s'agit d'une formation pratique.
Veuillez indiquer la langue de votre choix (français ou anglais) pour la formation et le matériel.

Inscription avant le 15 septembre : 190 $ pour 2 jours, 110 $ pour 1 jour
Après le 15 septembre : 220 $ pour 2 jours, 130 $ pour 1 jour
Présenté par:

ASSOCIATION DES CENTRES DE RESSOURCES FAMILIALES DU NOUVEAU-BRUNSWICK
Nathanael Patriquin, directeur
Courriel : nbafrc@frc-crf.com Tél. : (506) 474-0252, ext. 209
Remboursement jusqu'au 22 septembre (frais d'administration de 40 $).
Aucun remboursement après cette date.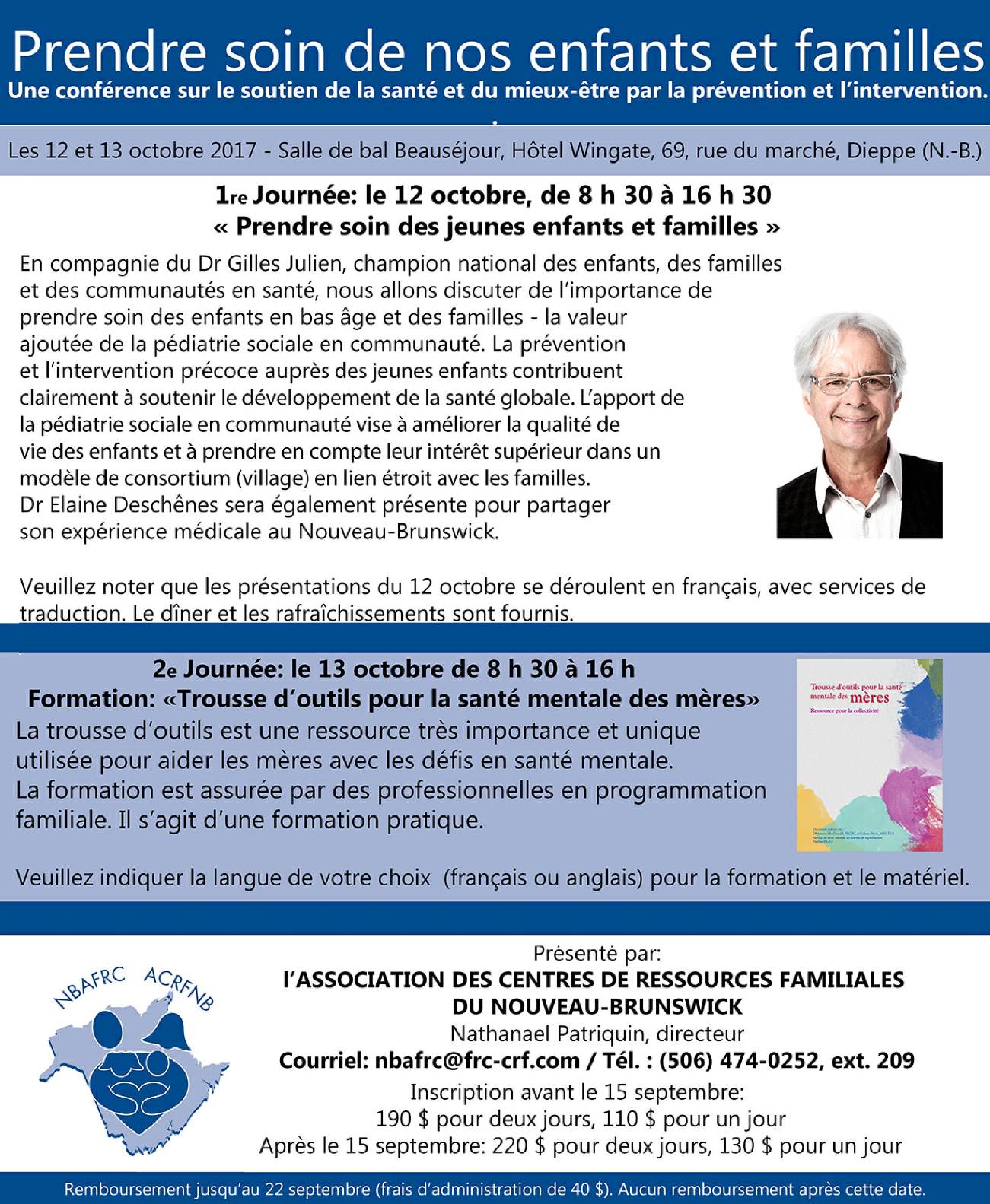 -----------------------------------------------------------------------------------------------------------------------------------------------------

Nurturing Children and Families: A Conference Supporting Health and Wellness Through Prevention and Intervention
October 12 and 13, 2017 - Beuseajour Ballroom, Wingate Hotel, 69, rue du Marché, Dieppe, NB
Day 1: October 12, 8:30 am to 4:30 pm "Taking Early Years Children and Families"
Together with Dr. Gilles Julien, National Champion of Children, Families and Healthy Communities, we will discuss the importance of caring for infants and families - the added value of social pediatrics in a community setting. Prevention and early intervention with young children clearly contributes to the development of overall health. The contribution of social pediatrics in community is aimed at improving the quality of life of the children and taking into account their best interest in a model of consortium (village) in close association with the families. Dr. Elaine Deschênes will also be present to share her medical experience locally in New Brunswick.
Please note that the October 12th presentations will be mainly in French with a translation service available. Dinner and refreshments are provided.
Day 2: October 13, 8:30 am to 4 pm
Training: "Mothers Mental Health Toolkit"
The Toolkit is a very important resource used to help mothers with mental health challenges. Training is provided by family programming professionals. This is a practical training.
Please indicate the language of your choice (French or English) for training and materials.
Registration before September 15: $ 190 for 2 days, $ 110 for 1 day
After September 15: $ 220 for 2 days, $ 130 for 1 day
Proudly Presented by:

THE NEW BRUNSWICK ASSOCIATION OF FAMILY RESOURCE CENTRES
Nathanael Patriquin, Director
Email: nbafrc@frc-crf.com Tel. : (506) 474-0252, ext. 209
Refunds available until September 22 ($ 40 administration fee applies). No refunds after this date.