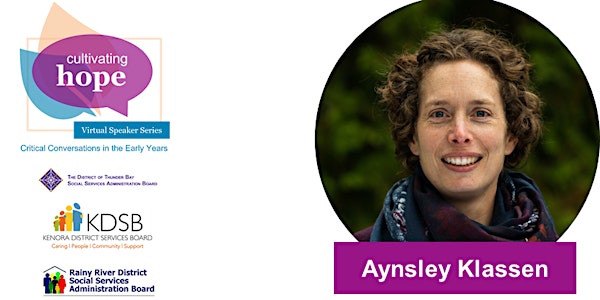 Nurturing Futures in the Face of Climate Change
Cultivating Hope Virtual Speaker Series: Nurturing Futures in the Face of Climate Change with Aynsley Klassen
About this event
Nurturing Futures in the Face of Climate Change
with: Aynsley Klassen
Children today will live with the complex and cumulative impacts of climate change throughout their lifespan. How do we nurture them in this context? What practices do we cultivate? What ideas might we compost? What are our responsibilities? This gathering is an invitation to explore community, connection, and creativity through critical conversations about how we move forward in the face of climate change.
December 1, 2021 10am EST / 9am CST
December 2, 2021 7pm EST / 6pm CST
About the Speaker
Aynsley Klassen is a Master of Health Sciences student at Lakehead University, specializing in Social-Ecological Systems, Sustainability, and Health. As a mother and a climate activist, she is committed to working at the intersection of climate change and public health through a social justice lens. She believes that slowing down and cultivating joy are paramount in this chaotic world.
About the Cultivating Hope Virtual Speaker Series
What future are we nurturing for our children and families? We invite you to join us for a speaker series to engage in critical conversations that support early learning in Northwestern Ontario. Our speakers will lead us through inspirational conversations in a safe place where we can think, discuss, and question our ideas. 
This Virtual Speaker Series is presented by The District of Thunder Bay Social Services Administration Board, Kenora District Services, and Rainy River District Social Services Administration Board.