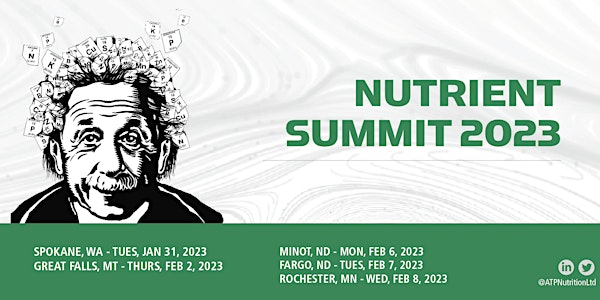 Nutrient Summit 2023 - Fargo, ND
Join us as leading agronomic experts discuss different management and innovative approaches for the upcoming season.
When and where
Location
Hilton Garden Inn Fargo 4351 17th Ave S Fargo, ND 58103
About this event
Since one of the largest investments on the farm is the crop fertility plan, it is important to challenge this spend so you can maximize your return while mitigating risk.
Join our Nutrient Summit Workshop to learn how essential nutrition, innovative technology tools, biostimulants and other leading edge agronomic practices can deliver the genetic potential of the crop.
8:30 am - 3:30 pm (Lunch provided)
CCA/CEU Credits will be available
Featured presentations include:
Learn how to manage Zinc - The #1 micronutrient deficiency
Too wet, too hot, too dry? Learn how nutrition can overcome environmental stress
Real time analytics – How technology is changing the way soil testing is done
Nutrient deficient seeds – Why are seeds nutrient deficient and how can you fix this yield robber.
Learn how to overcome a 'Herbicide Hangover'
What's new? The first ever Granular Biological! Learn about this technology and how it can fit into your soil applied program.
Available Dates:
Tuesday, Jan 31, 2023 - Spokane, WA
Northern Quest Casino
100 N Hayford Rd, Airway Heights, WA 99001
Thursday, Feb 2, 2023 - Great Falls, MT
Hilton Garden Inn
2520 14th St SW, Great Falls, MT 59404
Monday, Feb 6, 2023 - Minot, ND
Sleep Inn
2400 10th St SW, Minot, ND 58701
Tuesday, Feb 7, 2023 - Fargo, ND
Hilton Garden Inn
4351 17th Ave S, Fargo, ND 58103
Wednesday, Feb 8, 2023 - Rochester, MN
Rochester Event Center
7333 Airport View Dr SW, Rochester, MN 55902
* Make sure to have a valid email address when registering. Information on specific events, speakers and venues will be sent via email.
Spaces are limited. Reserve your ticket today.
Events run from 8:30am-3:30 PM
Lunch will be served
CCA/CEU Credits are Available