Description
Ever wonder how your diet is impacting your brain and how it is functioning? This educational seminar will help you understand just how much your nutrition impacts cognitive function and mental health! Alisa Herriman has been teaching Nutrition for over 12 years and helps her clients nourish both their bodies and minds! Alisa has assembled usable nutrition and lifestyle education strategies to help you learn how to personally support optimal brain health.
We have all had times where we don't feel as great as we may want to, whether it's a lack of energy, "mental fog", forgetfulness, or clinical conditions such as anxiety and depression. As a Nutritionist, Alisa believes that everything we put into our body directly determines how it functions, especially our brain! Nutrition and its impact on mental health will help you understand what dietary and lifestyle strategies can help you optimally nourish your mind, while providing a solid foundation for good emotional and mental health.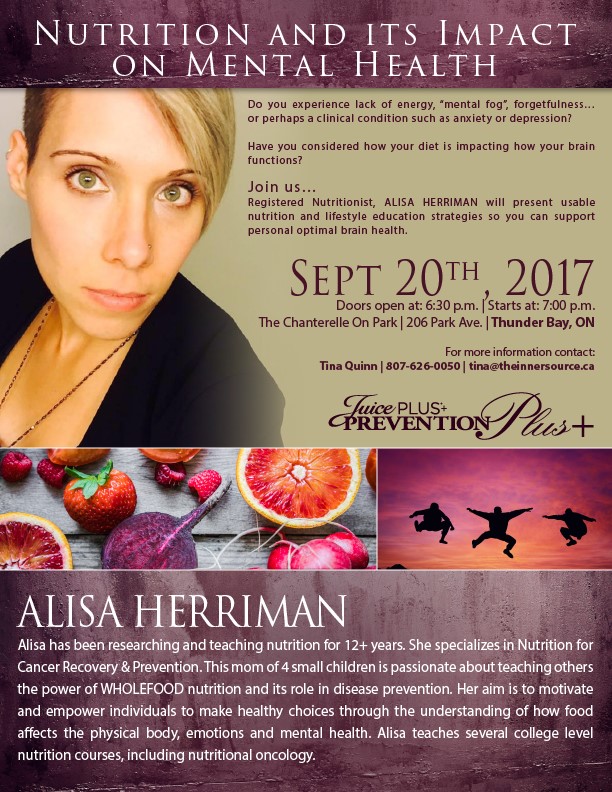 ---
Alisa has been researching nutrition for over 12 years. She is a Registered Nutritionist with specializations in Nutrition for Cancer Recovery and Prevention.
As a Juice Plus mom of 4 small children, she is passionate about teaching others the power of WHOLE FOOD Nutrition in the role of disease prevention. Alisa teaches several college level nutrition courses, including nutritional oncology.
Alisa will motivate and empower you to make healthier choices by increasing your understanding of how food effects your body!
Please join us for a evening of inspiration and learning!
---
ALL GUEST FREE | $10 for Juice Plus+ Representatives
This RSVP is so we have an idea of numbers to remain in compliance with the room maximum.
Thank you