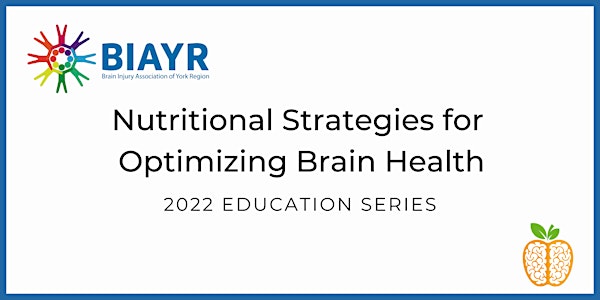 Nutritional Strategies for Optimizing Brain Health - BIAYR Educational Talk
Join Kylie James, as she discusses practical nutritional strategies for optimizing brain health following a brain injury.
About this event
Nutritional Strategies for Optimizing Brain Health following a brain injury
Overview:
Top foods for the brain to include in your diet now
How gut health impacts our brain health and what you can do to support your second brain
Practical strategies for implementing healthy eating habits when struggling with TBI symptoms
--
Please note the Q&A component is included in the 1 hour Educational Talk, running from 1:00pm until 2:00pm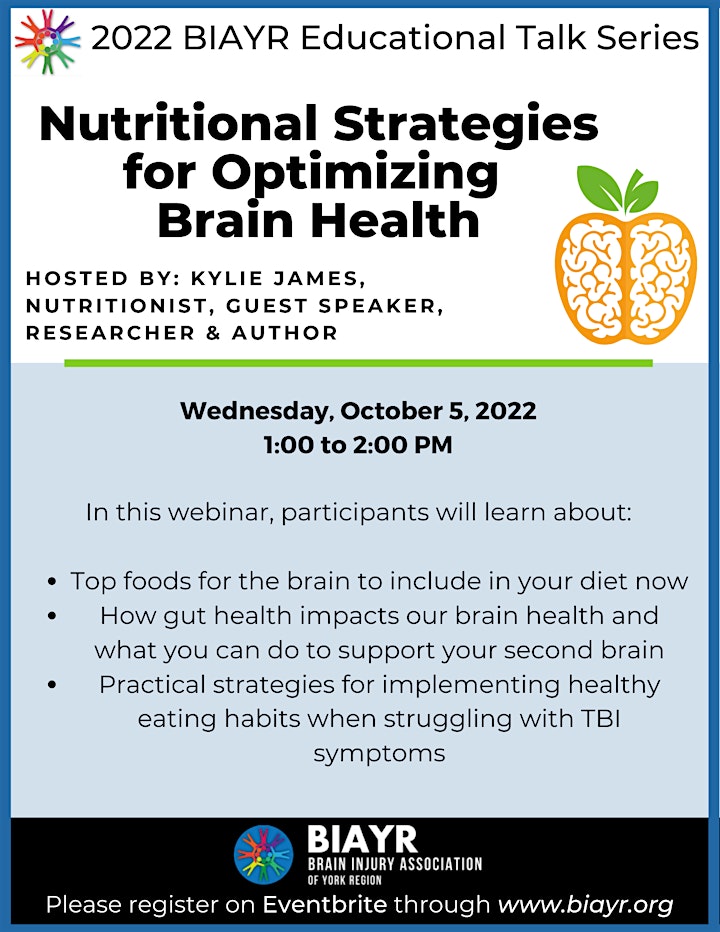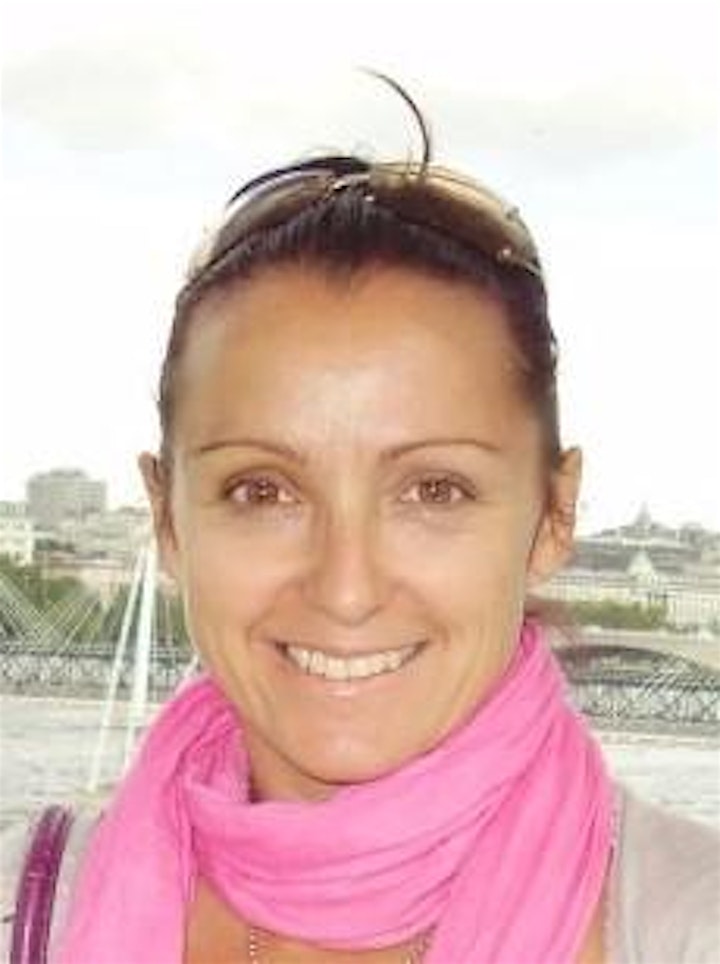 Kylie James
​Kylie graduated from the Institute of Holistic Nutrition in Toronto in 2009 with first class honors. She is the founder of Koru Nutrition inc. a company that specialises in individuals that have ben involved in motor vehicle accidents (MVA). Her company provides nutrition services to individuals with brain injury, spinal cord injury, chronic pain as well as digestive issues, mental health and weight loss/gain. She has 18 nutritionists, dietitian's and Naturopath Doctors that work for her and are based across South Western Ontario.
Kylie graduated from Auckland University in New Zealand with a Bachelor of Health Science in Occupational Therapy in 1996. She has 18 years of experience, in New Zealand, England and the last 21 years in Canada, as an occupational therapist in the mva industry. She has maintained senior and managerial roles as an occupational therapist in England and Canada. Kylie has testified as an expert witness as an occupational therapist and for future care reports.
Kylie became increasingly dedicated to researching nutrition and spinal cord injuries when her one-and- a-half-year old nephew sustained a C3-C4 quadriplegia in 2009. In 2011 a colleague and her received a grant from the Paralyzed Veterans of America to research and write a book on nutrition and preventing secondary complications in SCI. She is the Co-author of "Eat well, Live Well with Spinal Cord Injury and other Neurological Conditions: A practical guide to help address secondary health complications in SCI through nutrition."
Kylie has presented on the topic of nutrition, SCI and brain injury at numerous international conferences and webinars.
Kylie has also been part of research studies on nutrition and spinal cord Injury in Canada and the USA. The study at Brock University looked at the effect of following an anti-inflammatory diet and how it impacts cytokines (inflammatory markers in the blood) and in turn how this impacts pain, depression and sleep. This study was published in the Journal of Neurotrauma. She was also involved in a study at Maryland University the results of which she presented at the World Functional Medicine conference at Harvard Medical School.
Kylie writes articles for various disability magazines in Canada and the USA on the topics of nutrition. This includes the Ontario brain injury magazine (OBIA review), Kids Today, Sports and Spokes, Paraplegic News, New Mobility and Abilities. She has also been a peer review for the publication of the Pressure Ulcer Prevention and Treatment Following Injury: A Clinical Practice Guideline from the Paralyzed Veterans of America.