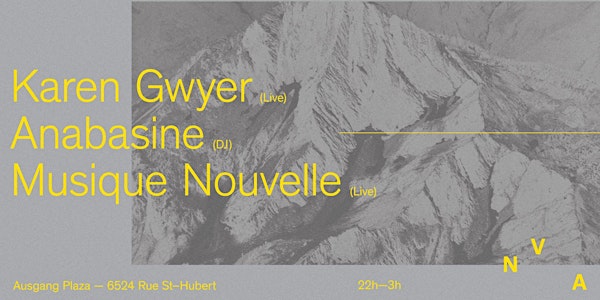 NVA Off-site: Karen Gwyer, anabasine, Musique Nouvelle
When and where
Location
Ausgang Plaza 6524 St-Hubert Montreal, QC H2S 2M3 Canada
Description
NVA presents a night of live and DJ sets on the psychedelic side of techno. / NVA présente une soirée de set live et DJ du côté psychédélique de la techno.
Karen Gwyer [ Don't Be Afraid | Nous Disques | Opal Tapes ] — Live
anabasine [ Lagom ] — DJ
Musique Nouvelle — Live / Canadian premiere
10$ presale / pré-vente (ends Oct 19, 3pm / finit le 19 Oct 15h)
There will be tickets at the door / Il y aura des billets à la porte:
15$ before midnight / avant minuit**
20$ after midnight / après minuit**
**Cash only at the door / Argent comptant seulement à la porte
_____________________
Karen Gwyer
Karen Gwyer is an American-born, Berlin-based artist known for her hypnotic, bass-laden, acidic and techno-adjacent live hardware sets. Growing up in a family of cellists near Detroit, Gwyer was tuned in early on to WCBN's "Crush Collision"—a weekly showcase of underground techno and house. She's been releasing tapes and records since 2012, her music appearing on respected labels like Don't Be Afraid, Opal Tapes, No Pain In Pop, Alien Jams, Nous, and Kaleidoscope. Her latest full length "Rembo" secured her on myriad favorite-of-the-year lists of 2017. With an acclaimed remix album following it up earlier this year, it is clear that Gwyer's place in the dance music world is a fiercy unique one: a techno-outsider with her own approach, she is anchored both in the dancefloor and in outer space. After a passage at MUTEK Montreal in 2015, we are thrilled to welcome her again in Montreal for a live performance.
anabasine
Danji Buck-Moore aka anabasine is a musician, DJ, engineer and organizer based in Montreal. Buck-Moore is a founding member of the community arts space La Plante, as well as the rave collective Lagom. A hard-working organizer in the underground scene since 2011, Buck-Moore recently premiered a highly applauded live set at MUTEK Montreal, showcasing his knack for broken beats and synth explorations. His DJ trajectory began in Germany's underground techno scenes, where he also worked on Polyrhythm Technoir, an exploratory film trilogy about techno worlds, in collaboration with German artists Henning Fehr and Philip Rühr. He has since played in Berlin, Düsseldorf, Cologne, LAUT in Barcelona, Bossa Nova Civic Club in New York and many underground raves in Montreal. anabasine also hosts the monthly show Anglerfish on n10.as radio, as well as a party series by the same name. His debut studio dance-music release is currently in production.
Musique Nouvelle
Musique Nouvelle is the new collaborative work of Simon Chioini (DJ Voilà) and Félix Gourd
(Absurde). The project merges both artists' interests and specialties into techno; at times straightforward, other times deconstructed, the duo's music follows unusual structural paths. Musique Nouvelle has performed at MUTEK Mexico and MUTEK Argentina, premiering in Canada for this NVA show.
Simon Chioini got into music while studying classical percussions and through a persistent
examination of the weird electronic music of the 90s and 00s. His curiosity for the medium led
him to achieve his Masters in Composition at the Conservatoire de Musique de Montréal. There,
his music found influences from both the electroacoustic music pioneers and from the
contemporary underground scene. Today, he likes to blend genres into hybridized pieces. His
practice as a DJ informs his compositional work.
Félix Gourd studied classical percussions at the Conservatoire de Musique de Montréal before
shifting his practice towards digital art. His interest towards the experimental potential of 3D
animation and a highly creative mind quickly brought him recognition as a VJ. Recently, his
focus went back to his musical roots. Influenced by the Berlin underground scene and Detroit's
classic techno, he blends continuous banging kick drums with distorted and crispy hi-hats
topped with acid bass lines and Yamaha DX7 chord hits.
_____________________
Karen Gwyer
Karen Gwyer est une artiste née aux États-Unis et basée à Berlin, connue pour ses sets live hypnotiques, chargés de basses, acides et technoïdes. Grandissant dans une famille de violoncellistes près de Detroit, Gwyer a longtemps écouté le programme de radio "Crush Collision" sur WCBN une vitrine hebdomadaire de la techno et de la house underground. Elle lance depuis 2012 cassettes et disques depuis, sa musique apparaissant sur des labels réputés tels que Don't Be Afraid, Opal Tapes, No Pain In Pop, Alien Jams, Nous et Kaleidoscope. Son dernier album "Rembo" figure sur maintes listes de favoris de l'année 2017. Avec un album de remix acclamé qui l'a suivi plus tôt cette année, il est clair que la place de Gwyer dans le monde de l'électronique de danse est férocement unique: une «outsider» de la techno avec sa propre approche, elle est ancrée à la fois dans le dancefloor et dans l'interstellaire. Après un passage à MUTEK Montréal en 2015, nous sommes ravis de l'inviter de nouveau à Montréal pour une performance live.
anabasine
Danji Buck-Moore alias anabasine est un musicien, DJ, ingénieur de son et organisateur basé à Montréal. Buck-Moore est l'un des membres fondateurs de l'espace artistique communautaire La Plante, ainsi que du collectif rave Lagom. Organisateur assidu de la scène underground depuis 2011, Buck-Moore a récemment présenté un set très applaudi à MUTEK Montréal, mettant en valeur son talent pour les rythmes brisés et les explorations de synthés. Sa carrière de DJ a commencé dans les scènes techno underground allemandes, où il a également travaillé sur «Polyrhythm Technoir», une trilogie de films exploratoires à propos des mondes de la techno, en collaboration avec les artistes allemands Henning Fehr et Philip Rühr. Il a depuis joué à Berlin, Düsseldorf, Cologne, LAUT à Barcelone, au Bossa Nova Civic Club à New York et dans de nombreuses raves underground à Montréal. anabasine anime également l'émission mensuelle Anglerfish sur la radio n10.as, ainsi qu'une série de soirée portant le même nom. Son premier album électronique est actuellement en production.
Musique Nouvelle
Musique Nouvelle est le nouveau travail collaboratif de Simon Chioini (DJ Voilà) et Félix Gourd (Absurde). Le projet fusionne les intérêts et les spécialités des deux artistes en découle «une sorte de techno». Parfois directe, parfois déconstruite, la musique du duo suit des chemins structurels inhabituels. Musique Nouvelle a performé à MUTEK Mexico et MUTEK Argentine, et sera présenté en première au Canada pour ce spectacle NVA.
Simon Chioini se mit à la musique en étudiant les percussions classiques, et à travers une exploration de la musique électronique décentrée des années 90 et 00. Sa curiosité pour le médium le conduit vers une Maîtrise en composition au Conservatoire de musique de Montréal. Sa musique y trouve des influences à la fois des pionniers de la musique électroacoustique et de la scène underground contemporaine. Aujourd'hui, il préconise le mélange de genres et les morceaux hybrides. Sa pratique en tant que DJ informe son travail de composition.
Félix Gourd a étudié les percussions classiques au Conservatoire de musique de Montréal avant de se tourner vers l'art numérique. Son intérêt pour le potentiel expérimental de l'animation 3D et un esprit créatif l'ont rapidement fait connaître en tant que VJ. Récemment, Gourd est retourné vers ses racines musicales. Influencé par la scène underground berlinoise et la techno classique de Détroit, il mélange percussions frappantes en continu et «hi hats» croustillants et saturés, surmontés de lignes de basse acides et d'accords de Yamaha DX7.