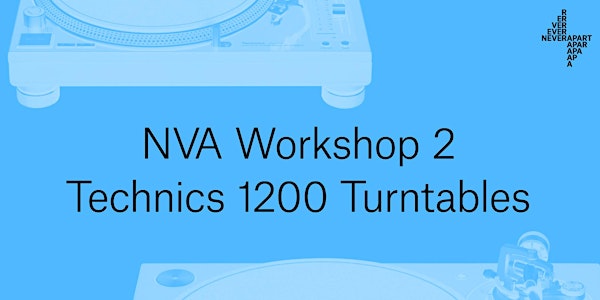 NVA Workshop 2: All About Technics 1200 turntables
When and where
Location
Centre Never Apart 7049 Rue Saint-Urbain Montréal, QC H2S 3H4 Canada
Description
NVA Workshop is a series of workshops demystifying various aspects of DJ practice, aimed at empowering the local community with knowledge and a space to learn hands-on.
The second edition takes an in-depth look at Technics 1200 turntables:
Overview of the history, a detailed look at all the functions and parts of a Technics 1200, how to check and set up your turntable, DJing tips and more!
Instructor: Darryl of DC Electronics
Language: English
Length: 3 hours
These workshops are open to all.
Free — RSVP via Eventbrite is mandatory as space is very limited.
Please arrive on time.

We would like to encourage women, LGBT+, nonbinary and POC folks to attend, as we strive to provide an accessible, respectful and empowering space.
We would like to acknowledge that the land on which we gather for this event is located on unceded Indigenous lands. The Kanien'kehá:ka Nation is recognized as the custodians of the lands and waters on which we gather today. Tio'tiá:ke/Montreal is historically known as a gathering place for many First Nations. Today, it is home to a diverse population of Indigenous and other peoples. We respect the continued connections with the past, present and future in our ongoing relationships with Indigenous and other peoples within the Montreal community.
•• FR ••
«NVA Workshop» est une série d'ateliers visant à démystifier divers aspects de la pratique des DJ, dans le but de donner à la communauté locale des connaissances et un espace d'apprentissage pratique.
La deuxième édition se penche sur les platines Technics 1200:
Aperçu de l'histoire des Technics 1200, un aperçu détaillé de toutes les fonctions et de toutes les pièces, comment vérifier et configurer votre platine, des astuces de DJing et plus encore!
Instructeur: Darryl de DC Electronics
Langue: Anglais
Durée de l'atelier: 3 heures
Ces ateliers sont ouverts à tou.t.e.s.
Gratuit — La réservation est obligatoire via Eventbrite car les places sont très limitées.
Svp arrivez à l'heure.

Nous souhaitons encourager les femmes, les personnes LGBT+, non-binaires et racisées à participer, nous nous efforçons de fournir un espace accessible, respectueux et valorisant.
Nous reconnaissons que la terre sur laquelle nous nous réunissions pour cet évènement est située en territoire autochtone, lequel n'a jamais été cédé. Nous reconnaissons la nation Kanien'kehá: ka comme gardienne des terres et des eaux sur lesquelles nous nous réunissons aujourd'hui. Tiohtiá: ke / Montréal est historiquement connu comme un lieu de rassemblement pour de nombreuses Premières Nations, et aujourd'hui, une population autochtone diversifiée, ainsi que d'autres peuples, y résident. C'est dans le respect des liens avec le passé, le présent et l'avenir que nous reconnaissons les relations continues entre les Peuples Autochtones et autres personnes de la communauté montréalaise.