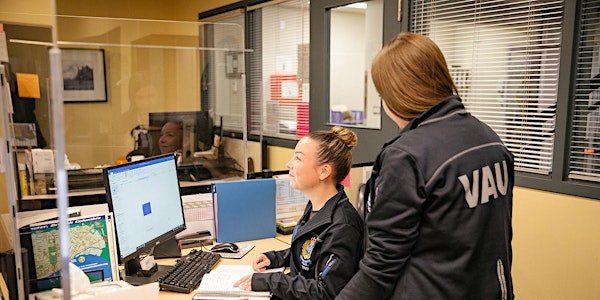 NWPD Information Session - Crisis Intervention Worker
Would you like to learn more about what is involved in the role of a Crisis Intervention Worker with the Victim Assistance Unit?
When and where
Location
New Westminster Police Department 555 Columbia Street New Westminster, BC V3L 1B3 Canada
About this event
Are you interested in helping others in their time of need? Do you have a genuine regard for and a sincere interest in assisting victims of crime? Do you have the ability to relate effectively to a wide variety of people and situations?
If so, the NWPD Victim Assistance Unit may be the place for you.
Our VAU Coordinator and HR Team will answer any questions you may have and will also discuss:
- Why you should consider joining the NWPD.
- Requirements and qualifications for working in Victim Services.
- Overview of the steps in the recruitment process – along with a few little pieces of advice!
- Benefits and career opportunities with the NWPD Victim Assistance Unit.
- Learn more about the training involved for the position.
Please note the following:
- Information sessions are limited in space.
- You must be 19 years or older to attend the info session.
- These sessions will be held at the NWPD Station (555 Columbia Street, New Westminster).
If you are considering applying to the NWPD as a Crisis Intervention Worker, it is highly recommended you attend one of these sessions; however, it is not mandatory to attend an info session and you are welcome to apply at any time.
These information sessions are for those interested in working in Victim Services and are not for those interested in becoming a police officer.
If you register for a session and are unable to attend, please email hr@nwpolice.org to cancel your spot.